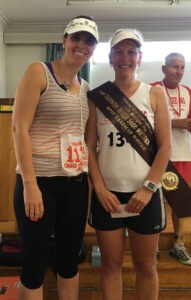 In the season opener, the 102 runners in the Steigen 5 000 metre sealed handicap set off into a stiff westerly as they followed the river track to Princes Bridge. The return leg was a little less taxing. Justin Tenne held off Grant Simpson by 20 metres in the run to the finish. Natalie Mensch held a 40 metre advantage over fellow veteran Loretta McGrath to be the first female home. When the hidden handicaps were applied, it was Fiona Gilks who was declared the winner. It was Gilks' second club win, having scored at Fyansford in 2012. She attributed her win to the extra speed work she has been doing. 
Top 10 Results
F. Gilks 25.14, S. Kennedy 20.12, N. Masters 24.03, A. Bruschi 21.34, S. Van Rooyen 18.22, C. Worsley 23.55, D. Wright 19.17, S. Welsh 22.07, D. Elson 28.44, M. Paull 25.05 
Fastest Times
Under 40 Male: J. Tenne 17.37,T. Pearce 18.08.
Under 40  Female: C. Worsley 23.55, Z. Hircoe 25.44.
Veteran Male: G. Simpson 17.41, R. Thomas 17.57.
Veteran Female: N. Mensch 19.24, L. McGrath 19.33.
Masters Male: K. McNulty 20.20, P. Carroll 21.13.
Masters Female: S. Howell 21.19, P. Galvin 23.07. 
Legends Male : K. Walker 19.09, V. Gasper 21.54.
Legends Female: J. Austin 24.19, D. Elson 28.44.
Supervets Male: G. Marshall 28.26, M. Orelli 28.57.