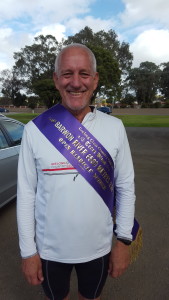 The 110 starters in the Team Blood 6 500 metre handicap encountered ideal running conditions as they headed off along the river track towards the Breakwater Bridge. Newly elected President, Paul Austin held off Barney Ellis to win by 5 metres with fast finishing Shane Kennedy a similar distance away third.
Austin who had been trekking around Japan recently was surprised by his residual fitness from training for the forthcpoming Otay marathon and competing at Masters every Wednesday evening
Top 10 Results
Paul Austin 32.25, B. Ellis 31.21, S. Kennedy 26.20, C. Cahill 32.31, L. Ryan 26.12, J. Morton 28.52, D. Wright 24.50, G. Wrest 29.02, A. Bruschi 28.11, D. Elson 37.05.
Fastest Times
Under 20 Female: M. Crawford 31.39.
Under 40 Male: J. Dalton 21.30, C. Davis 21.36.
Under 40  Female: S. Coulter 27.29, Z. Adams 27.36.
Veteran Male: R. Thomas 22.39, N. Muscroft 9.35.
Veteran Female: N. Mensch 25.11, S. Pedersen 26.53.
Masters Male: M. Clayton 24.20, K. McNulty 26.03.
Masters Female: S.Howell 27.25  P. Galvin 30.09