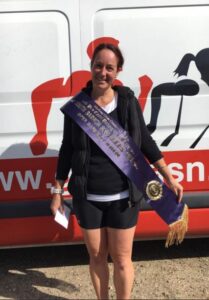 Perfect conditions ensured a fast and furious pace for the 96 starters in the Pakington Bakery and Pro Care Sports and Spinal 8 km handicap at the South Barwon Reserve. It was second year runner, Michele Paull, in only her tenth race, who surged to the lead to win by 20 metres from Denise Elson with Chris Cahill almost 100 metres back in third. Paull attributed her improved form to preparing for the upcoming Gold Coast marathon festival. Current club champion, Ron Thomas was the fastest male and Natalie Mensch the fastest female, each by over a minute from their nearest rival.
Top 10 Results
M. Paull 38.34, D. Elson 44.25, C. Cahill 39.31, V. Gasper 33.33, L. Ryan  32.18, D. Wright 30.35, B. Ellis 37.58, G. Wrest 35.55, P. McDonough 33.33, S. Crossfield 32.59.
Fastest Times
Under 20 Male: A. Bird 33.13.
Under 20 Female: M. Crawford 39.07.
Under 40 Male: C. Lockwood 29.38, C. Davis 29.56.
Under 40  Female: A. Kluver 33.44, S. Coulter 34.27.
Veteran Male: R. Thomas 27.58, A. Ruggero 29.25..
Veteran Female: N. Mensch 31.57, S. Pedersen 33.34.
Masters Male: S. Crossfield 32.59, G. Tedoldi 33.36.
Masters Female: S.Howell 34.17, P. Galvin 36.57.
Legends Male : K. Walker 30.04, D. Elward 31.54.
Legends Female: J. Austin 39.11, D. Elson 44.35.
Supervets Male: G. Marshall 45.12, M. Orelli 47.45.
Supervets Female: M. Blood 57.24.