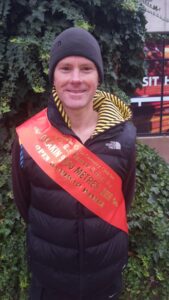 The forecast downpour failed to eventuate so the 66 starters in the Injury Clinic 9 km handicap around Deakin University enjoyed ideal distance running conditions. The new course provided a challenge with continual undulations mid-race. It was Daryl Burns, the 2013 King of the Mountains winner, who took the lead inside the last 150 metres to defeat Claire Nivarovich and consistent placegetter, Luke Ryan. It was Burns' fourth race win since he joined the club in 2013. Ron Thomas and Claire Nivarovich were the fastest male and female respectively by comfortable margins. David Simpson, 300 runs, and Alan Jenkins, 100 runs, were acknowledged on reaching their milestones.
Top 10 Results
D. Burns 34.44, C. Nivarovich 39.57 L. Ryan 38.06, John Morton 42.14, M. Clayton 35.39, G. West 42.25, G. Clark 41.12, K. Walker 35.51, Jeanette Morton 49.58, P. Shay 37.15.
Fastest Times
Under 20 Female: M. Crawford 46.50.
Under 40 Male: D. Burns 34.44, L. Rowan 36.02.
Under 40  Female: S. Dalton 49.23, R. Ryan 49.36.,
Veteran Male: R. Thomas 33.37, T. McRae 36.56.
Veteran Female: C. Nivarovich 39.57, J. Foran 43.56.
Masters Male: M. Clayton 36.39, P. Shay 37.15.
Masters Female: S.Howell 40.41, J. Morton 49.58
Legends Male : K. Walker 35.51, V. Gasper 40.39.
Legends Female: J. Austin 46.02, D. Elson 52.35.
Supervets Male: G. Marshall 54.21, M. Orelli 56.37.
Supervets Female: M. Blood 68.18.