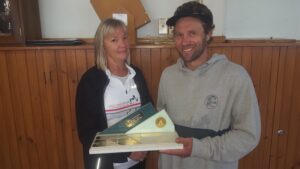 Sixty-five contestants turned up for the Belmont Stereo Teams Race along the river where a keen head wind on the outward section was counter balanced by a welcome tail wind in the run to the finish.. A call was put out for someone to run a second leg and it was Dan Wright who volunteered. It proved to be fortuitous because together with Peta Hocking, who was a member of the winning team last year, they scored very comfortably from the team of Robert Peel, Jeanette Morton and Alan Jenkins who in turn were well clear of a group of teams fighting out third place.
Top 3 Results
1st – Dan Wright, Peta Hocking, Dan Wright.
2nd – Robert Peel, Jeanette Morton, Alan Jenkins.
3rd – John Caulfield, Matthew Holmes, Justin Tenne.