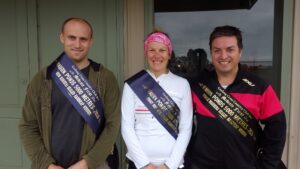 Ideal conditions prevailed for the Mediate First 5km sealed handicap which is the first in a series of four scratch races. The field of 97 was sent on its way along the Waurn Ponds Creek path to Torquay Road and return. A bunch of five were still together with 2 km to go but soon after Craig Davis surged clear to win by 50 metres from Louis Rowan. Amongst the females, Natalie Mensch scored comfortably from Sharon Pedersen.
When handicapper Tony applied the hidden handicaps, there were a few surprised winners. Matthew Maiden took out the Backmarkers, Chris Cahill the Middlemarkers and Fiona Gilks the Frontmarkers. The division for new and returning members went to Rob Peel.
Results
Frontmarkers: F. Gilks 24.47, Middlemarkers: C. Cahill 22.53, Backmarkers: M. Maiden 19.57, New and Returning Runners: R. Peel 20.59.
Fastest Times
Under 40 Male: C. Davis 17.39, L. Rowan 17.52.
Under 40  Female: A.Muscroft 22.01, B. Kohnert 22.30
Veteran Male: N. Muscroft 18.04, J. Foran 18.48.
Veteran Female: N. Mensch 18.50, S. Pedersen 19.23.
Masters Male: C.El-Hage 18.20, M. Clayton 18.36.
Masters Female: S. Howell 21.01, P. Galvin 22.32.
Legends Male : D. Elward 19.26, V. Gasper 21.05.
Legends Female: J. Austin 23.36, D. Elson 28.01.
Supervets Male: G. Marshall 27.15, J. Weiler 28.19
Supervets Female: M. Blood 34.18