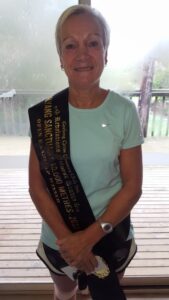 Pattie Galvin, who was racing her 500th club race, turned it into a double celebration when she crossed the line first in the Revolutions Fitness Studio 10 km handicap from Balyang Sanctuary to Fyansford and return.  Galvin is the first female member to reach the 500 run milestone, having first run in 1984. Persistent dizzle dampened the 105 starters for the first half of the race before gradually clearing to provide perfect running conditions. Galvin was able to hold off a late challenge from the fast finishing Charlie El-Hage to win by 30 metres. Natalie Mensch and Ron Thomas were once again convincing fastest time winners in the race towards club champion honours.
Top 10 Results
P. Galvin 45.40, C. El-Hage 37.47, G. West 45.23, V. Gasper 42.30, R. Thomas 35.10, J. Morton 44.58, L. Ryan 41.27, C. Michael 42.18, G. Martini 46.36, A. Jenkins 45.00
Fastest Times
Under 20 Female: M. Crawford 54.37.
Under 40 Male: M. Curypko 36.41, D. Burns 38.04.
Under 40  Female: S. Coulter 42.01, S. Bennett 42.58.
Veteran Male: R. Thomas 35.10, A. Ruggero 37.40.
Veteran Female: N. Mensch 38.51, S. Pedersen 41.58.
Masters Male: C. El-Hage 37.47, K. Henderson 40.05.
Masters Female: S.Howell 45.12, P. Galvin 45.40.
Legends Male : D. Elward 40.42, V. Gasper 42.30.
Legends Female: J. Austin 47.46, D. Elson 57.25.
Supervets Male: M. Orelli 58.07, G. Marshall 58.35.
Supervets Female: M. Blood 72.55
Magic Money: D.Jennings