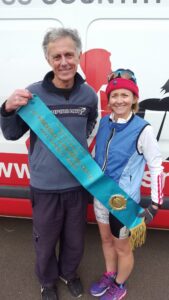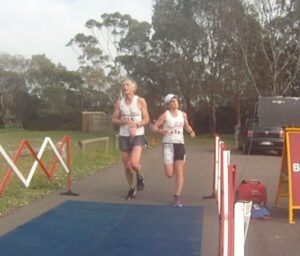 Conditions were perfect for 52 competitors in the Fit For Living 12 600 metre handicap around the Wurdiboluc Reservoir. For the first time in the club's 47 year history, a handicap race resulted in a dead heat. Even the camera could not separate Jo Foran and John Morton who joined forces at the half way mark and powered to the finish in a see-saw battle. A lunge by Foran on the line meant the honours were shared, 120 metres ahead of Vin Gasper. It was Morton's first win whilst Foran, who is training for the Gold Coast Running Festival, had won three races previously. Natalie Mensch and Ron Thomas were again convincing fastest female and male respectively.
Top 10 Results
Jo Foran 57.03 and John Morton 56.38 equal first, V. Gasper 54.27, R. Thomas 45.01, L. Ryan 52.37, Jeanette Morton 68.38, A. Herbert 60.37, R. Blue 57.38, H. Bush 60.36, M. Lloyd 66.18.
Fastest Times
Under 40 Male: D. Burns 47.34, A. Bird 50.09.
Under 40  Female: Z. Hircoe 68.52.
Veteran Male: R. Thomas 45.01, T. McRae 50.26.
Veteran Female: N. Mensch 51.05, J. Foran 57.03.
Masters Male: K. McNulty 53.24, G. Anset 55.17.
Masters Female: C. Crawford 65.12, J. Morton 68.38.
Legends Male : D. Elward 50.45, V. Gasper 54.27.
Legends Female: C. Bridgland 73.38, D. Elson 74.19
Supervets Male: G. Marshall 73.43, T. Spark 77.59.
Supervets Female: M. Blood 98.46.
Magic Money: J.Morton.  5k Consolation:  J. Willigen