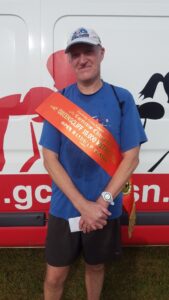 A burst water main delayed the start of the Corrective Chiropractic 10 km handicap at Queenscliff and caused a change to the course which made it far more demanding. Eventually, the 82 starters set sail in perfect conditions. It was Alan Jenkins, revelling in being injury free for the first time in 2 years, who overtook Joanne Macarthy 20 metres from the finish to score narrowly. Jenkins who had experienced achillies problems is the co-ordinator of Geelong Masters Athletics which is held at Landy Field on Wednesday nights. Aaron Herbert, who like MacCarthy is a first year member, was third. Course director Genevieve Pape was the fastest female whilst Ron Thomas continued his success in the fastest male division.
Top 10 Results
A. Jenkins 44.27, J. MacCarthy 59.30, A. Herbert 46.50, D. Elson 56.10, J. Austin 47.25, M. Orellei 57.19, C. Cahill 47.00, G. Pape 41.01, R. Thomas 35.11, H. Bush 47.01.
Fastest Times
Under 20 Female: M. Crawford 50.39.
Under 40 Male: D. Burns 37.29, C. Davis 37.44.
Under 40  Female: B. Kohnert 45.52, C. Radford 46.25.
Veteran Male: R. Thomas 35.11, N. Muscroft 37.47.
Veteran Female: G. Pape 41.01, S. Andrews 48.07.
Masters Male: C. El-Hage 38.33, K. Henderson 41.16.
Masters Female: P. Galvin 47.37, C. Crawford 51.01.
Legends Male : G. Clark 44.44, C. Collins 44.57.
Legends Female: J. Austin 47.25, C. Bridgland 56.07.
Supervets Male: M. Orelli.57.19, G. Marshall 58.41.
Supervets Female: M. Blood 72.35
Magic Money:C. Cahill