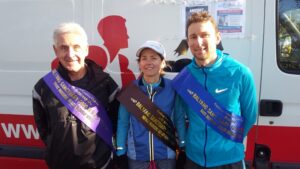 With the temperature hovering around 2 degrees, the 98 starters in the Saucony Australia 8km sealed handicap at Balyang Sanctuary were grateful there was no breeze to add wind chill to their shivering. The frost on the Queen's Park bridge added another dimension. James Dalton set a fearsome pace and crossed the line almost a minute ahead of invitation runner, Kurt McDonald. Amongst the females, Allira Kluver staged a momentous battle with Sam Bennett, triumphing by a mere 3 seconds. When the handicappers applied the hidden handicaps, Dalton and Bennett were the winners of their respective divisions of the sealed handicap. Jo Foran repeated the form which saw her dead heat a fortnight ago to win the middle markers division whilst Geoff Marshall, who is leading the Supervets championship, won the frontmarkers. Glenn Martini was recognised for reaching his 100th run milestone.
Results
Frontmarkers: G. Marshall
Middlemarkers: J. Foran
Backmarkers: J. Dalton
New and Returning Runners: S. Bennett
Fastest Times
Under 20 Male: K. McDonald 27.33, O. Hynes 31.31.
Under 20 Female: M. Crawford 40.31.
Under 40 Male: J. Dalton 26.39, T. Pearce 28.37.
Under 40  Female: A. Kluver 32.33, S. Bennett 32.36,
Veteran Male: R. Thomas 28.27, T. McRae 30.33
Veteran Female: J. Foran 34.44, M. Paull 40.04.
Masters Male: C. El-Hage 31.04, K. Henderson 32.14.
Masters Female: S. Howell 35.50, C. Crawford 39.10.
Legends Male : G. Clark 36.07, D. Simpson 36.38.
Legends Female: J. Austin 41.20, D. Elson 45.31.
Supervets Male: G. Marshall 44.36, M.Orelli 46.34.
Supervets Female: M. Blood 62.04