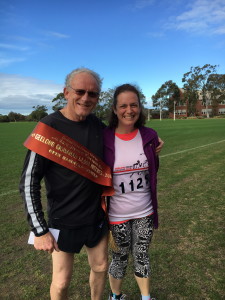 A field of 69 lined up in the Lara Natural Therapies 10 km handicap at the Geelong Grammar School on Sunday. The stiff breeze on the outward leg tested the runners. It was frontmarkers, John Caulfied and Joanna MacCarthy, who joined forces with 3 km to go and settled down to fight out the finish. Caulfield opened up a break only to be rejoined by MacCarthy. But the wily veteran drew away in the run to the finish to beat the first year runner MacCarthy by 20 metres. In the battle for fastest, invitation runner Craig Scott beat fellow invitee Cameron Simon whilst Natalie Mensch was fastest female from Shari Livingston.
Top 10 Results

J Caulfield 67.38, J. MacCarthy 57.45, A. Herbert 47.11, J. Austin 47.53, V. Gasper 42.54, G. Anset 42.47, M. Orelli 57.56, R. Blue 45.16, M. Clayton 38.46, J. Morton  54.28.
Fastest Times
Under 20 Female: M. Crawford 51.26.
Under 40 Male: G. Fellner 40.53, M. Morton 41.14.
Under 40  Female: S. Livingston 41.22, S. Coulter 42.38.
Veteran Male: C. Scott 36.11, C. Simon 36.59.
Veteran Female: N. Mensch 40.57, S. Andrews 49.35.
Masters Male: M. Clayton 38.46, P. Shay 42.34.
Masters Female: P. Galvin 47.44, J. Morton 54.28.
Legends Male : K. Walker 39.43, V. Gasper 42.54.
Legends Female: J. Austin 47.53, D. Elson 58.11.
Supervets Male: M. Orelli 57.56, G. Marshall 58.40.
Supervets Female: M. Blood 71.59.
Magic Money: J. Willigen