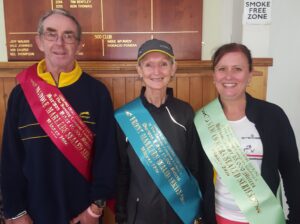 Sixty-three athletes turned up for the Running Company Geelong 15  km sealed handicap along the Barwon River paths. Apart from a little surface water, the conditions for the 3 lap main race were ideal. A further 21 members decided to do the one lap 5 km event. Ron Thomas won the male section by over a minute whilst Loretta McGrath had a similar margin in the female section.
When handicapper Tony applied the hidden handicaps, Grant Davis was successful in the Backmarkers. Vin Gasper reinforced his liking for the longer races by winning the Middlemarkers. Marie Blood and Jill Gillies had an exciting battle at the rear of the field and were rewarded with wins in the Frontmarkers and New Runners' sections respectively.
Results
Frontmarkers: M. Blood
Middlemarkers: V. Gasper
Backmarkers: G. Davis
New and Returning Runners: J. Gillies
Fastest Times
Under 40 Male: G. Davis 57.40, D. Wright 58.15.
Under 40  Female: S. Coulter 63.57, N. Robertson 67.44.
Veteran Male: R. Thomas 55.38, G. Simpson 56.42.
Veteran Female: L. McGrath 61.17, G. Pape 62.40..
Masters Male: C. El-Hage 59.27, K. Henderson 61.59.
Masters Female: J. Morton 82.40, P. Galvin 83.05,
Legends Male : K. Walker  58.37, D. Elward 60.46.
Legends Female: J. Austin 72.47, C. Bridgland 92.54
Supervets Male: G. Marshall 89.18.
Supervets Female: M. Blood 110.02
 5 km: C. Worsley