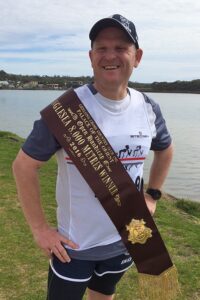 An early taste of Spring greeted the 70 runners who lined up for today's event, held at Anglesea. Conditions were ideal for running. The course had to be altered due to cliff erosion along the coastal track and the detour pushed out the distance from 8km. This is a run with a lot of surface variety and elevations to test the legs. The winner today was Grant Baensch, who was quite chuffed to claim the sash, having just returned from overseas. He was quick to thank his fellow running group for their support and encouragement.
Top 10 Results
Grant Baensch, 45:54; Mary Harrison, 49:31; Nicole Roberson, 35:39; Barney Ellis, 41:06; Geoff Anset, 35:50; Shari Livingston, 35:02; Phil Shay, 35:19; Sara Coulter, 35:04; Sean Thompson, 39:22; Dan Wright, 32:48.
Fastest Times
Under 40 Male: D. Wright.
Under 40 Female: S. Bennett.
Veteran Male: N. Muscroft.
Veteran Female: S. Pedersen.
Masters Male: P. Shay.
Masters Female: S. Howell.
Legends Male : K. Walker.
Legends Female: C. Bridgland.
Supervets Male: G. Marshall.
Supervets Female: M. Blood.
Magic Money: Chris Cahill.