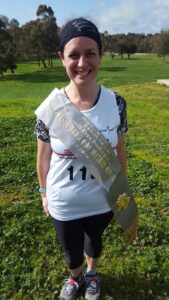 Eighty-two starters lined up for the Profeet Podiatry Four Bridges 5 km handicap on a beautiful spring morning. The river paths provide a flat course which often favours frontmarkers. This was exactly what happened with first year runner, Joanna MacCathhy passing Ian Holliday in sight of the finish with Marie Blood close behind. MacCarthy has shown great improvement with regular club runs combined with Park Runs and Masters Athletics on Wednesday nights. Sharon Pedersen and Dan Wright were the fastest of their gender by narrow margins.
Top 10 Results
J MacCarthy 26.56, I. Holliday 32.19, M. Blood 33.52, J. Willigen 27.24, G. Anset 19.56, D. Harrison 24.59, C. Collins 21.36, D. Wright 18.20, S. Thompson 22.17, M. Harrison 28.33
Fastest Times
Under 20: J. Maiden 23.03.
Under 20 Female: M. Crawford 22.49..
Under 40 Male: D. Wright 18.20, D. Burns 18.41.
Under 40  Female: S. Coulter 19.50, S. Bennett 20.18.
Veteran Male: N. Muscroft 18.25, T. McRae 19.36.
Veteran Female: S.Pedersen 19.25, L. McGrath 19.39.
Masters Male: C. El-Hage 18.54, G. Anset 19.56.
Masters Female: J.Morton 25.31, M. Harrison 28.33.
Legends Male : K. Walker 19.02, D. Elward 19.41.
Legends Female: C. Bridgland 27.56, P. Hocking 35.20
Supervets Male: D. Jennings 30.06, I. Holliday 32.19.
Supervets Female: M. Blood 33.52.
Magic Money: G. McIntosh