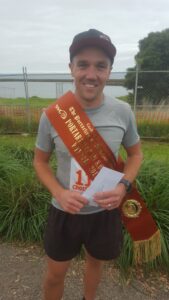 Ninety-five starters contested the Portarlington Bakehouse 8 km handicap in almost perfect conditions. It was the first club run in the town for five years and it was Brett Davis in only his ninth run with the club who careered away to win by a big margin from Mark Clayton and Sean Thompson. Davis had just returned from walking the Kokoda Track and felt the break from training had freshened him up. Sara Coulter and Craig Davis were the fastest of their gender by around half a minute. Life member, Kevin McNulty, was roundly applauded for his 300 run milestone and Luke Ryan was recognised for his 100 run milestone.
Top 10 Results
B. Davis, 31:59; M. Clayton, 29:59; S. Thompson, 36:25; S. Coulter, 32:34; D. Elward, 31:57; M.Blood, 55:19; J. Foran, 31:35; A. Bird, 29:51; S. Van Rooyen, 31:00; G. Baensch, 42:35.
Fastest Times
Under 20 Male: A. Fitzpatrick 59.34.
Under 40 Male: C. Davis 27.34, M. Gunther 28.12.
Under 40  Female: S. Coulter 32.34, R. Thompson 33.43.
Veteran Male: M. Chalmers 29.14, D. Wright 30.05.
Veteran Female: T. Dekleva 33.10, C. Nivarovich 35.25..
Masters Male: M. Clayton 29.59, C. Howell 31.17.
Masters Female: S. Howell 35.24, M. Gourley 39.20.
Legends Male : K. Walker 31.31, D. Elward 31.57.
Legends Female: C. Stephens 40.57, J. Morton 44.17,
Supervets Male: M. Orelli 46.45, G.Marshall 47.35,
Supervets Female: M. Blood 55.19.
Magic Money:C. Crawford