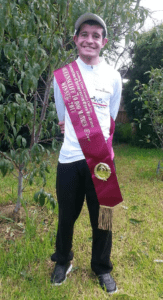 Intermittent showers greeted the 108 starters in the Corrective Chiropractic 10 km handicap along the Queenscliff rail trail. It was second year runner, Aaron Bird, who cruised to a comfortable win from consistent placegetter, Mark Clayton. Bird has stepped up his training this year for a trip to Thailand where he will represent Australia in the INAS Athletics Championships which start next week end. In the battle for fastest time, Kate Bramley had 23 seconds to spare from newcomer, Claire Davis in the females whilst Craig Davis defeated Jarron Cole by only one second in the males. 
Top 10 Results
A. Bird, 35:49; M. Clayton, 37:23; S. Andrews, 45:24; D. Elward, 39:27; R. Ryan, 52:30; C. Davis, 33:53; K. Walker, 38:34; K. McNulty, 31:41; T. Harding, 49:38; R. Thomas, 36:06.
Fastest Times
Under 20 Male: A. Fitzpatrick 72.02
Under 40 Male: C. Davis 33.53, J. Cole 33.54.
Under 40  Female: K. Bramley 40.15, C. Davis 40.38.
Veteran Male: R. Thomas 36.06, M. Chalmers 36.27..
Veteran Female: .T. Dekleva 41.51, S. Pedersen 42.31.
Masters Male: M.Clayton 37.23, C. Howell 38.35.
Masters Female: S. Howell 44.43,  P Galvin 49.44.
Legends Male : K. Walker 38.34, D. Elward 39.27.
Legends Female: J. Austin 51.46, J. Morton 56.21.
Supervets Male:  M. Orelli 60.51,G. Marshall 61.06.
Magic Money: R. Ryan