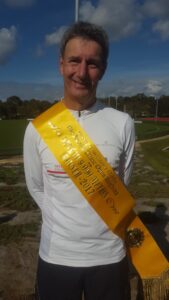 The ninety starters who ventured to Deakin University for the Injury Clinic 9 km handicap experienced great cross country conditions. The tough, undulating course suits backmarkers and it was handicapper and course designer, Phil Shay, who held off the fast finishing reigning club champion, Ron Thomas by 35 metres with Dave Elward third. Shay attributed his improved form to having trained for an overseas marathon in the off season. First year runner, Matt Gunther, was comfortably the fastest male whilst returning member, Rachael Thompson, was easily the fastest female. The only founding member still with the club, Dale Jennings, was acknowledged for reaching the fabulous 800 run milestone in his 47th season with the GCCC.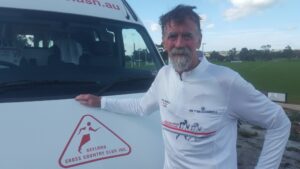 Top 10 Results
P. Shay 38.40, R. Thomas 32.58, D. Elward 37.07, S. Thompson 43.04, K. McNulty 39.24, J.  Foran 37.07, A. Muscroft 42.25, K. Walker 36.52, A. Herbert 42.28, D. Wright 34.40.
Fastest Times
Under 20 Male: K.. McDonald 33.57, A. Fitzpatrick 75.57.
Under 40 Male: M. Gunther 32.35, M. Chalmers 34.02.
Under 40  Female: R. Thompson 38.58, S. Livingston 40.03
Veteran Male: R. Thomas 32.58, M. Chalmers 34.02.
Veteran Female: S. Pedersen 40.10, T. Dekleva 40.32.
Masters Male: P. Shay 38.40, Z. Krstevski 38.56.
Masters Female: P Galvin 45.52, C. Crawford 49.22.
Legends Male : K. Walker 36.52, D. Elward 37.07
Legends Female: J. Austin 47.57, C. Bridgland 54.30.
Supervets Male: M. Orelli 55.30, J. Weiler 58.04.
Supervets Female: M. Blood 64.53.
Magic Money: F. Barnett