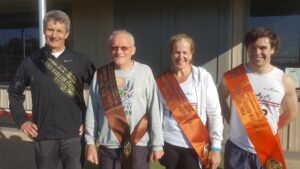 The cold frosty morning followed by glorious sunshine attracted a field of 130 starters in the Mediate First 5 km sealed handicap along the Waurn Ponds Creek pathways. In the second half of the event, Matt Gunther careered away to a handsome victory from veterans Ron Thomas and Grant Simpson. Kate Bramley was a comfortable victor in the female event from Zoe Adams and Loretta McGrath. The fast course saw 59 runners beat their expected times. When the handicappers applied the hidden handicaps, recent winners, Phil Shay and Sean Thompson, continued their fine form to take out the Backmarkers and Middlemarkers events respectively. The Frontmarkers went to John Caulfield whilst Cheryl Debeen won the new and returning members section.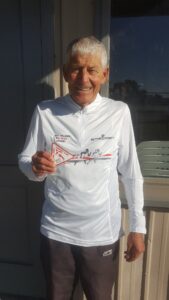 Club secretary and living legend Jeff "Mr Running" Walker , was celebrated with a standing ovation for reaching the 900 run milestone. Past president and brother of Jeff, Ken Walker, gave an insightful and heartfelt speech about Jeff and his amazing running exploits. Well done Jeff on such great achievement and good luck on your way to 1000 club runs.
Results
Frontmarkers: J. Caulfield 31:18
Middlemarkers: S. Thompson 21:11
Backmarkers: P. Shay 19:23
New and Returning Runners: C. Debeen 30:55
Fastest Times
Under 20 Male: N. MacDonald 20.19, A. Fitzpatrick 31.13.
Under 20 Female: A. Jones 22.39
Under 40 Male: M. Gunther 16.24, M. Lyon 17.25.
Under 40 Female: K. Bramley 18.17, Z. Adams 18.42.
Veteran Male: R. Thomas 17.08, G. Simpson 17.19.
Veteran Female: L. McGrath 19.12, S. Pedersen 19.36.
Masters Male: M. Clayton 18.06, K. Henderson 18.47.
Masters Female: C. Crawford 24.05, K. Hammond 26.26.
Legends Male : K. Walker 18.32, D. Elward 18.45.
Legends Female: J. Morton 25.42, C. Bridgland 27.23.
Supervets Male: M. Orelli 27.15, J. Weiler 28.51.
Supervets Female: M. Blood 32.33.