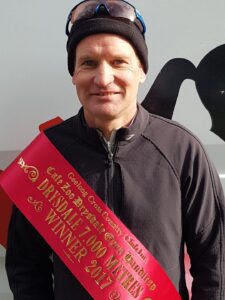 A smaller field of 73 gathered for the Café Zoo 7 km handicap at Drysdale. The recent drier weather meant there were only a few damp spots to negotiate. It was predicted to be a course for the backmarkers and it was reigning two-time club champion, Ron Thomas, who motored through the field to score by 60 metres from Colin Hatton, who showed a welcome return to form, and Luke Haines a farther 40 metres back. Tracie Dekleva  was the fastest female by nearly 6 minutes and new member, Kurt McDonald, was the fastest male by half a minute.
Peter McDonough was recognised for reaching the 100 run milestone
Top 10 Results
R. Thomas, 25:59; C. Hatton, 30:05; L. Haines, 27:43; N. Masters, 34:50; L. Ryan, 31:07; A. Herbert, 32:56; K. Walker, 28:52; T. McRae, 29:41; S. Crossfield, 32:23; J. Curran, 30:04.
Fastest Times
Under 20 Male: K. McDonald 25.10, N. MacDonald 30.36.
Under 40 Male: M. Gunther 25.43, S. Malkie 27.59
Under 40  Female: M. Crawford 37.11, R. Ryan 38.00
Veteran Male: R. Thomas 25.59, D. Wright 27.37..
Veteran Female: T. Dekleva 31.16, M. Paull 37.59..
Masters Male: C. Hattton 30.05, S. Crossfield 32.23.
Masters Female: C. Crawford 39.00, C. Shay 45.18.
Legends Male : K. Walker 28.52, R. Blue 31.37.
Legends Female: C. Bridgland 42.30, D. Elson 45.16.
Supervets Male: M. Orelli 45.25, J. Weiler 47.27.
Magic Money: S. Crossfield