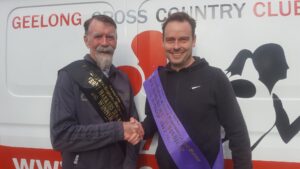 A field of 103 lined up for the Darrawill Farm Highton 8 km sealed  handicap from Balyang Sanctuary to Fyansford and return. The wind was light at the start and increased to moderate by race end. Grant Simpson, who has just returned from winning gold at the Australian Masters Athletic Championships, was able to hold off Dan Wright by 90 metres with Aaron Bird close behind in third. In the female section, Kate Bramley notched another convincing victory.
When the handicappers applied the hidden handicaps, Dale Jennings was the winner of the Frontmarkers division. It was his 21st win in his 47 seasons with the club. Second year runner, Aaron Herbert won the Middlemarkers and third year runner, Justin Curran won the Backmarkers division whilst Shannon Ryan won the New and Returning runners section. Maurice Marshall was recognised for reaching his 300 run milestone.
Results
Frontmarkers: D. Jennings, 48:07
Middlemarkers: A. Herbert, 34:31
Backmarkers: J. Curran, 30:54
New and Returning Runners: S. Ryan, 34:59
Fastest Times
Under 20 Male: N. MacDonald 33.42, A. Fitzgerald 55.05
Under 20 Female A. Jones 39.18
Under 40 Male: A. Bird 29.10, D. Burns 29.38
Under 40 Female: K. Bramley 31.00, Z. Adams 32.02
Veteran Male: G, Simpson 28.47, D. Wright 29.08.
Veteran Female: S. Pedersen 32.23, T. Dekleva 33.13.
Masters Male: M. Clayton 29.57, K. Henderson 30.41.
Masters Female: C. Crawford 40.22, K. Hammond 42.24.
Legends Male : K. Walker 30.16, D. Elward 30.51.
Legends Female: J. Morton 43.42, C. Bridgland 44.22
Supervets Male: M. Orelli 46.07, G. Marshall 47.14.