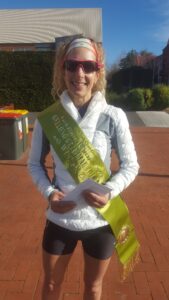 As the temperature plummeted below zero, 93 hardy souls lined up in the Lara Natural Therapies 10 km handicap held at Geelong Grammar School. The unusually still conditions made for excellent racing as the sun began to melt the thick blanket of frost. It was Susan Andrews who triumphed by 40 metres from Coral Bridgland with the fast finishing Justin Curran only 20 metres away third. It was third year runner, Andrews' first win with the club. The battle for fastest times was much closer this week with Kate Bramley beating Tracie Dekleva by 14 seconds in the females and Ron Thomas beating Grant Simpson by 5 seconds in the male division.
 Top 10 Placings
S. Andrews, 45:00; C. Bridgland, 55:44; J. Curran, 38:58; N. Masters, 47:14; D. Elward, 39:01; K. Walker, 38:24; G. Wrest, 45:47; B. O'Brien, 43:19; M. Morton, 38:55; J. Morton, 44:49.
Fastest Times
Under 20 Male: N. MacDonald 41.15, A. Fitzpatrick 60.43.
Under 20 Female: A. Jones 45.54.
Under 40 Male: .A. Bird 36.55, R. Leyonhjelm 37.46.
Under 40  Female: K. Bramley 40.45, S. Livingston 41.12.
Veteran Male: R. Thomas.36.08, G. Simpson 36.13.
Veteran Female: T. Dekleva 40.59, S. Pedersen 42.36.
Masters Male: M. Clayton 38.36, G. Anset 43.00.
Masters Female: C. Crawford 51.11, K. Hammond 52.04.
Legends Male : K. Walker 38.24, D. Elward 39.01.
Legends Female: J. Morton 54.35, M. Henshaw 54.52.
Supervets Male: M. Orelli 58.01, G. Marshall 59.06.
Magic Money: B. Kurz