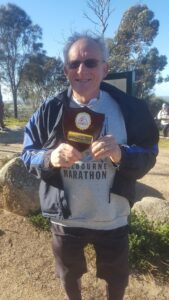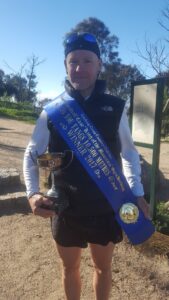 The westerly wind was increasing as the 63 entrants in the Windows By Geoff Case 10 km King of the Mountains gathered at the You Yangs turntable. President Paul had devised a new course which included the very testing ascent off the Saddle. Noted hill runner, Daryl Burns, won his second mountain crown by blitzing the field to score by over 300 metres from Paul Ogilvie with Ken Walker 80 metres back in third. It was Burns' fifth win in his five years with the club. The special prizes for the fastest of each gender went to Rachael Thompson and Ron Thomas. The 5 km consolation race was taken out by Bonnie Szymczak. Before presentation, the weary runners feasted on delicious scones baked by Jane Gasper. John Caulfield was applauded for reaching his 500 run milestone in his 27th season with the club.
 Top 10 Placings
 D. Burns, 42:05; P. Ogilvie, 56:26; K. Walker, 44:27; R. Thomas, 40:07; L. Haines, 42:55; J. Walker, 53:29; D. Wright, 42:20; S. Ryan, 49:53; S. Curtain, 47:11; R. Thompson, 47:12.
Fastest Times
Under 20 Male: N. MacDonald 47.20
Under 40 Male: D. Burns 42.05, A. Bird 44.41.
Under 40  Female: R. Thompson 47.12, C. Davis 48.18.
Veteran Male: R. Thomas 40.07, D. Wright 42.20.
Veteran Female: T. Dekleva 47.37, S. Pedersen 50.56.
Masters Male: S. Bullock 46.53, P.Shay 48.04.
Masters Female: C. Crawford 61.11, K. Hammond 65.27.
Legends Male : K. Walker 44.27, R. Blue 48.45.
Legends Female: C. Bridgland 64.56, J. Morton 66.30.
Supervets Male: D. Jennings 76.21, G.Marshall 77.32.
Consolation 5km: B. Szymczak
Magic Money: D. Burns