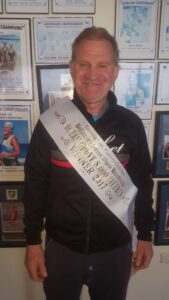 The 93 starters in the Bellarine Print 8 km handicap along the Ocean Grove foreshore were pleased to see such a low tide. The two lap course meant runners had to twice battle the stiff easterly breeze on the sand leg. It was former handicapper, Paul Ogilvie, who followed up his second at the You Yangs with a 200 metre win from Justin Curran and Fiona Fitzpatrick. Ogilvie had been away from the club for a number of seasons due to two very serious falls from his bike. His only other club win was over the same course in 2004. Katie Eisenhauser was the fastest female in her first club race and Grant Simpson was the fastest male, both by less than 20 seconds. Simpson was also recognised for reaching his 100 run milestone.
 Top 10 Placings
 P. Ogilvie, 39:41; J. Curran, 32:46; F. Fitzpatrick, 51:20; G. Simpson, 30:21; S. Van Rooyen, 32:08; K. Walker, 32:26; C. Bridgland, 46:39; M. Morton, 32:41; S. Ryan, 36:19; M. Harrison, 48:30.
Fastest Times
Under 20 Male: N. MacDonald 39.11.
Under 40 Male: D. Burns 31.26, D. Card 32.02.
Under 40  Female: K. Eisenhauser 34.30, C. Davis 34.49.
Veteran Male: G. Simpson 30.21, M. Chalmers 30.37.
Veteran Female: S. Andrews 38.36, M. Paull 43.05.
Masters Male: P. Shay 34.02, P. Carroll 35.45.
Masters Female: C. Crawford 43.02, M. Harrison 48.30.
Legends Male : K. Walker 32.26, D. Elward 34.19.
Legends Female: C. Bridgland 46.39, J. Morton 46.48.
Supervets Male: M. Orelli 48.51, D. Jennings 53.55.
Magic Money: M. Morton