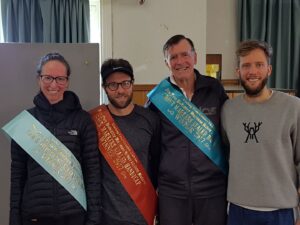 A blustery westerly greeted the 107 starters in the Profeet Podiatry 10 km sealed handicap along the banks of the Barwon River. First year runner, Jarron Cole, surged away from the trailing bunch of four to record a huge win by 450 metres. Kate Bramley had a similar margin ahead of the next female, Zoe Adams.
When handicappers Steve and Phil applied the hidden handicaps, Dale Jennings won his second Frontmarkers sealed handicap this year and recorded his 22nd club win overall. Sue Andrews maintained her good form to win the Middlemarkers section and Dan Wright won the Backmarkers division of this race for the second consecutive year. Promising new runner, Katie Eisenhauser, won the Newcomers section.
Results
Frontmarkers: D. Jennings, 60:51; Middlemarkers: S. Andrews, 44:37; Backmarkers: D. Wright, 35:54; New and Returning Runners: K. Eisenhauser, 40:57.
Fastest Times
Under 20 Male: N. MacDonald 43.58, A. Fitzpatrick 63.46
Under 40 Male: J. Cole 34.22, M. Lyon 35.59
Under 40 Female: K. Bramley 38.58, Z. Adams 40.49
Veteran Male: R. Thomas 35.50, D. Wright 35.54
Veteran Female: T. Dekleva 42.13, S. Pedersen 44.33
Masters Male: M. Clayton 39.21, P. Shay 42.11
Masters Female: C. Crawford 51.46, M. Harrison 60.58
Legends Male : K. Walker 39.09, D. Elward 39.24
Legends Female: J. Morton 55.59, C. Bridgland 56.50
Supervets Male: M. Orelli  60.00, D. Jennings 60.51