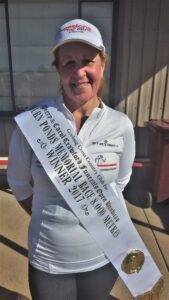 Ninety athletes gathered for the Carol and Terry Crawford Funerals 8 km handicap held along the Waurn Ponds bike trail under clear skies with very little breeze. The pace was fast on the flat terrain and it was first year runner, Cheryl Debeen, who defied the efforts of the trailing pack to score a comfortable victory from fellow frontmarker, Denise Elson, and another first year runner, Leo Pye. Debeen had shown a liking for the venue, having won her section of the 5 km sealed series there in June. Kate Bramley was the fastest female by a large margin whilst relative newcomer Kurt McDonald showed his potential by being the fastest male.
Being the club's memorial event, race sponsor, Carol Crawford, delivered a moving tribute to members of yesteryear who had passed away, along with a minute's silence in remembrance of them.
Top 10 Placings
C. Debeen, 48:22; D. Elson, 44:50; L. Pye, 38:56; G. Wrest, 36:13; S. Vander Bruggen, 29:38; M. Paull, 38:51; A. McGrillen, 33:55; C. Cahill, 37:56; M. Chalmers, 28:17; R. Ryan, 40:24.
Fastest Times
Under 20 Male: K. McDonald  28.03, N. MacDonald 35.04
Under 40 Male: M. Lyon 28.53, D. Burns 29.55
Under 40  Female: K. Bramley 31.01, S. Livingston 32.17
Veteran Male: M. Chalmers 28.17, D. Wright 29.10
Veteran Female: S. Pedersen 34.30, M. Paull 38.51
Masters Male: P. Shay 32.01, C. El-Hage 32.47
Masters Female: C. Crawford 41.39, M. Harrison 47.34
Legends Male : K. Walker 32.41, V. Gasper 35.35
Legends Female: J. Morton 43.20, D. Elson 44.50
Supervets Male: M. Orelli 45.20, G. Marshall 51.43
Magic Money: C. Debeen