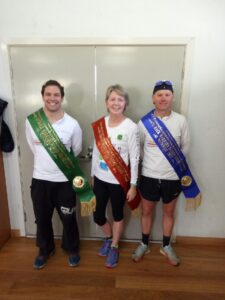 Fifty- nine runners lined up for the Running Company Geelong 15 km sealed handicap with another twenty-one contesting the consolation 5 km event. A little hail before the start cleared and cool breezy conditions along the Barwon River paths ensued. A group of five men led for the first of three laps as the race began to take shape. It was first year runner, Matt Gunther, who broke clear to win by 70 metres from Ron Thomas who had to dig deep to hold off Dan Wright in a sprint to the line. In the female section, Tracie Dekleva was a convincing winner from Susan Andrews and Sharon Pedersen. When handicappers applied the hidden handicaps, Cate Shay scored her first win in two years in taking out  the Frontmarkers section. Sean Thompson and Daryl Burns each won their second race for the season in winning the Middlemarkers and Backmarkers divisions respectively. Being fourth overall was enough for Dave Card to win the Newcomers section.
Results
Frontmarkers: C. Shay; Middlemarkers: S. Thompson; Backmarkers: D. Burns; New and Returning Runners: D. Card.
Fastest Times
Under 20 Male: N. MacDonald 69.36
Under 40 Male: M. Gunther 54.56, D. Card 55.36
Under 40 Female: R. Ryan 78.03, L. Brown 79.24
Veteran Male: R. Thomas 55.12, D. Wright 55.16
Veteran Female: T. Dekleva 64.21, S. Andrews 71.02
Masters Male: M. Clayton 61.45, P. Shay 62.07
Masters Female: C. Shay 95.18, M. Harrison 96.45.
Legends Male : D. Elward 61.50, V. Gasper 66.58
Legends Female: C. Bridgland 86.28
Supervets Male: M. Orelli 94.46, D. Jennings 99.09
Consolation 5 km: L. Feetwood