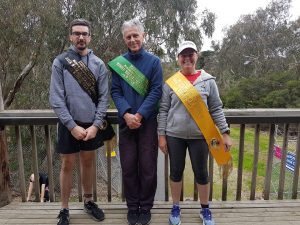 Overcast, calm weather made for ideal running conditions for the Darrawill Farm Highton 8 km sealed handicap along the river paths from the Canoe Club to Fyansford and return. Grant Simpson, who is the pacesetter in the club championship, led all the way beating invitation veteran athlete Bevan Nicholson by 50 metres. Reigning female champion, Kate Bramley, was half a kilometre ahead of the Sara Coulter in her section.
When the handicappers, Justin and Dan, applied the hidden handicaps, three of the winners were successful for the first time. Robyn Little, a member since 2007, won the Frontmarkers. Andrew McGrillen , a consistent placegetter, won the Backmarkers and first year member, Lucy Pyle, won the New and Returning Runners division. The exception was John Morton who tasted his second success in the Middlemarkers section, having won at Wurdiblouc in 2016. David Peart was recognised for reaching his 200th club run milestone.
Thank you to one of our members Tim, Sports Dietician from one of our race sponsors The Injury Clinic for his words of wisdom and Q & A in sports nutrition!
Results
Frontmarkers: R. Little, Middlemarkers: J. Morton, Backmarkers: A. McGrillen, New and Returning Runners: L. Pyle
Fastest Times
Under 20 Male: T. Hockley-Samon 27.46, O. Hynes 27.56.
Under 20 Female: K. Gleeson 33.04, H. Peart 46.18.
Under 40 Male: M. Curypko 28.14, M. Lyon 29.07.
Under 40 Female: K. Bramley 29.21, S. Coulter 31.04.
Veteran Male: G. Simpson 26.52, B. Nicholson 27.04.
Veteran Female: S. Blackborrow 31.15, L. McGrath 31.40.
Masters Male: T. Bentley 30.04, D. Peart 31.54.
Masters Female: G. Pape 34.54, C. Crawford 38.50.
Legends Male: D. Elward 32.44, V. Gasper 33.38.
Legends Female: M. Henshaw 43.51, C. Bridgland 45.36.
Supervets Male: J. Walker 38.23, M. Orelli 48.55.
Supervets Female: M. Blood 57.19.