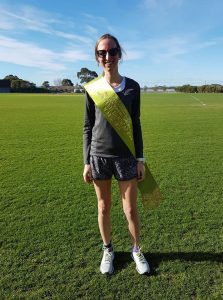 Eighty runners assembled at Geelong Grammar School for the Lara Natural Health 10 km handicap. Unlike many club events at that venue, the conditions were close to ideal for distance running with only a gentle breeze. It was second year runner, Katie Eisenhauer who ran through the field to win by 40 metres from Coral Bridgland with last week's sealed handicap winner, Andrew McGrillen, a similar distance away third. Eisenhauer, who has been an impressive addition to the club, also had the honour of being the fastest female by over three minutes. Grant Simpson further enhanced his chances of being club champion for a third time by blitzing his male rivals by over two minutes.
Top 10 Placings
K. Eisenhauer 39.25, C. Bridgland 56.30, A. McGrillen 41.12, E. Sims 49.53, G. Simpson 33.45, K. Hammond 51.51, M. Humphrey 44.15, D. Porter 73.18, S. Thompson 44.30, C. Hatton 42.14.
Fastest Times
Under 20 Female: K. Gleeson 42.34.
Under 40 Male: J. Curran 37.19, Z. Boothroyd 38.14.
Under 40 Female: K. Eisenhauer 39.25, A. Park 45.41.
Veteran Male: G. Simpson 33.45, M. Chalmers 36.08.
Veteran Female: S. Pedersen 45.09, S. Andrews 46.03.
Masters Male: K. McNulty 40.35, C. Hatton 42.14.
Masters Female: S. Howell 45.22, K. Hammond 51.51.
Legends Male: D. Elward 41.50, R. Blue 43.44.
Legends Female: M. Henshaw 55.28, C. Bridgland 56.30.
Supervets Male: J. Walker 49.44, M. Orelli 62.46.
Supervets Female: M. Blood 72.40.
Magic Money: M. Crawford