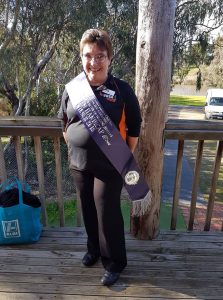 A field of eighty-five assembled for the Goodlife Geelong 10 km handicap from the Canoe Club to Fyansford and return. The wind  fluctuated, making it a stern test of endurance. It was second year frontmarker, Vanice Kelly, who defied all efforts to run her down. Kelly's margin was close to 400 metres from backmarker Grant Simpson with Julia Larsson ten metres away third. Katie Eisenhauer was easily the fastest female and Simpson was the fastest male for the tenth time this season.
 Top 10 Placings
V.Kelly, 67:21; G. Simpson, 33:47; J. Larsson, 49:40; S. Thompson, 44:25; S. Van Rooyen, 37:40; M. Maiden, 42:33; C. Bridgland, 57:18; M. Morton, 40:01; E. Sims, 50:47; K. Hammond, 52:43.
Fastest Times
Under 20 Male: J. Gordon 38.48.
Under 40 Male: Z. Boothroyd 37.17, J. Donovan 37.22.
Under 40  Female: K. Eisenhauer 39.15, C. Davis 41.08.
Veteran Male: G. Simpson 33.47, C. Lockwood 36.19.
Veteran Female: S. Pedersen 43.19, S. Andrews 45.37.
Masters Male: K. McNulty 40.50, P. Carroll 43.33.
Masters Female: S. Howell 44.10, N. Angus 51.26
Legends Male: D. Elward 41.28, R. Blue 42.46.
Legends Female: C. Bridgland 57.18, J. Elkin 67.47.
Supervets Male: J. Walker 49.39, M. Orelli 62.18.
Supervets Female: M. Blood 73.48.
Magic Money: R. Blue