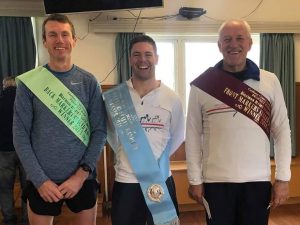 Another great day for running with overcast skies and little breeze welcomed the 114 starters in the Profeet Podiatry 10km sealed handicap. The mass start provided a stimulating change for many. Jarron Cole took the lead and was soon joined by Grant Simpson and they ran in unison until the final stages when Simpson surged away to win by 60 metres. In the female section, reigning club champion, Kate Bramley, was a convincing winner from Claire Davis. When the handicapping panel applied the hidden handicaps, Davis was the winner of the Newcomers and Returning runners' division. Club president, Paul Austin, won the Frontmarkers, last year's sealed series winner, Sean Thompson, won the Middlemarkers and Simpson picked up his third sash for the season in the Backmarkers section. Simpson, who is in outstanding form managed to take out the triple crown for the day by also winning the Rory Wilson Shield for best age graded result. At 91.27%, his result places him into world class ability.  A highlight of the morning was a reunion of former members who reminisced of past times with the club.
Results
Frontmarkers: P. Austin 54.46, Middlemarkers: S. Thompson 43.52,  Backmarkers: G. Simpson 33.06,  New and Returning Runners: C. Davis 39.37.
Fastest Times
Under 20 Male: J. Gordon 41.41.
Under 20 Female: K. Gleeson 43.23, H. Peart 61.47.
Under 40 Male: J. Cole 39.20, M. Curypko 35.12.
Under 40 Female: K. Bramley 38.15, C. Davis 39.37.
Veteran Male: G. Simpson 33.06, M. Chalmers 35.35.
Veteran Female: L. McGrath 40.22, S. Pedersen 42.35.
Masters Male: K. McNulty 40.06, P. Shay 40.44.
Masters Female: G. Pape 44.25, N. Angus 49.59.
Legends Male : D. Elward 40.16, R. Blue 42.15.
Legends Female: M. Henshaw 55.02, J. Elkin 65.26.
Supervets Male: J. Walker 48.58, M. Orelli 62.32. 
Supervets Female: M. Blood 70.18.