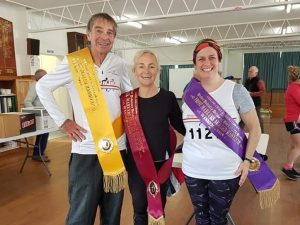 A field of 107 assembled for the Profeet Podiatry 10 km sealed handicap along the Barwon River bike paths with a moderate to strong westerly blowing. Last season's club champion, Grant Simpson running as an invitation runner, streeted the field to win from Stephane Vander Bruggen and Michael Minney. Kate Bramley dominated the female section winning just as clearly from Claire Davis and Sharon Pedersen. When handicappers Dan and Andrew applied the hidden handicaps, Sharon Pedersen won the Backmarkers, Geoff Clark the Middlemarkers and Joanna MacCarthy the Frontmarkers. The New and Returning Runners division was taken out by first year runner Hilda McGrillen. A number of past members attended the race as part of a reunion.
Results
Frontmarkers: J. MacCarthy, 59:40
Middlemarkers: G. Clark, 46:36
Backmarkers: S. Pedersen, 40:59
New and Returning Runners: H. McGrillen, 55:02
Fastest Times
Under 40 Male: M. Minney 36.07, J. Donovan 36.56.
Under 40 Female: K. Bramley 36.18, C. Davis 39.10,
Veteran Male: G. Simpson 34.12, S. Vander Bruggen 35.59.
Veteran Female: S. Pedersen 40.59, S. Andrews 44.56.
Masters Male: A. Ward 40.31, K. McNulty 41.13
Masters Female: N.Angus 50.30,C. Crawford 51.35.
Legends Male : M. Geall 44.45, S. Crossfield 44.59.
Legends Female: P. Galvin 48.14, J. Austin 53.53.
Supervets Male: J. Walker 49.11, F. Engelsman 54.16.
Supervets Female: D. Elson 60.47.