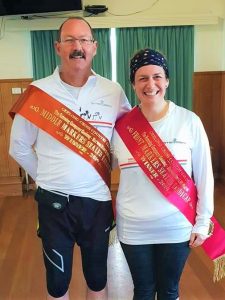 A field of 66 assembled for the Running Company 15 km sealed handicap at Belmont Park with a moderate south westerly keeping conditions pleasant for the club's second longest run of the season. 2018 club champion, Grant Simpson, set a hot pace to win by 700 metres whilst Catherine Allison won the female section by a similar margin. When handicappers Dan and Andrew applied the hidden handicaps, Stephane VanderBruggen, who is heading overseas to tackle the triathlon circuit won the Backmarkers division. Recent winners, Joanna MacCarthy and Geoff Anset, continued their strong form by taking out the Frontmarkers and Middlemarkers sections respectively. In the New and Returning Runners division, first year runner Hilda McGrillen took her 2nd sealed series win.
Results
Frontmarkers: J. MacCarthy 89:21
Middlemarkers: G. Anset 69:27
Backmarkers: S. Vander Bruggen 55:13
New and Returning Runners: H. McGrillen 82:16
Fastest Times
Under 40 Male:  B. Westerweller 54.22, C. Mayfield 55.20.
Under 40 Female: C. Allison 60.43, C. Davis 66.31.
Veteran Male: G. Simpson 51.53, S. Vander Bruggen 55.13
Veteran Female: S. Pedersen 63.16, G. Berry  65.05.
Masters Male: M. Clayton 60.07, A. Ward 60.56.
Masters Female: N.Angus 77.19, R. Little 86.27.
Legends Male : K. Henderson 62.04, D. Elward 63.13.
Legends Female: J. Morton 86.34, M. Henshaw 90.06.
Supervets Male: F. Engelsman 82.02, J. Walker 89.29.
Supervets Female: M. Blood 120.48.
Consolation 5 km: G. Marshall 30.23.