Sixty-two keen runners gathered for the Intersport De Grandi 21.1 km handicap held at Belmont Park yesterday morning. The weather was perfect for spectators but some runners felt it was a bit too humid. Backmarker Daryl Burns was giving the frontmarkers almost 84 minutes start. It was another backmarker, Dan Wright, who was able to record his fourth club victory by 100 meters from Pattie Galvin with Kevin McNulty in third place. Wright won this race in 2016 and his time yesterday was almost five minutes faster than three years ago. He was the fastest male on the day whilst Sharon Pedersen who completed a half ironman last weekend was the fastest female. Twenty-five runners took the easier option of a consolation 5 km race where club sponsor, Carol Crawford, was the sealed handicap winner.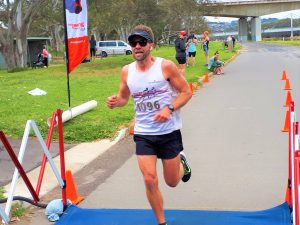 Top 10 Placings
D. Wright, 80:03; P. Galvin, 104:09; K. McNulty, 92:29; L. Haines, 81:50; P. Shay, 91:50; V. Gasper, 98:31; M. O'Neill, 107:32; S. Van Rooyen, 88:38; L. Considine, 93:10; T. Davis, 93:44.
Fastest Times
Under 40 Male: D. Burns 81.21,  N. Geary 82.47.
Under 40  Female: C. Moss 107.12, H. McGrillen 119.09
Veteran Male:  D. Wright 80.23, L. Haines 81.50.
Veteran Female: S. Pedersen 102.25, M. O'Neill 107.32.
Masters Male: P. Shay 91.50, K. McNulty 92.29.
Masters Female: N. Angus 115.04.
Legends Male: V. Gasper 98.31, J. Colebrook 130.24.
Legends Female: P. Galvin 104.09, J. Austin 119.56.
Supervets Male: F. Engelsman 131.27.
Supervets Female: M. Blood 176.26.
Magic Money: G. Baensch 129.33.
Consolation 5km: C. Crawford 24.35.