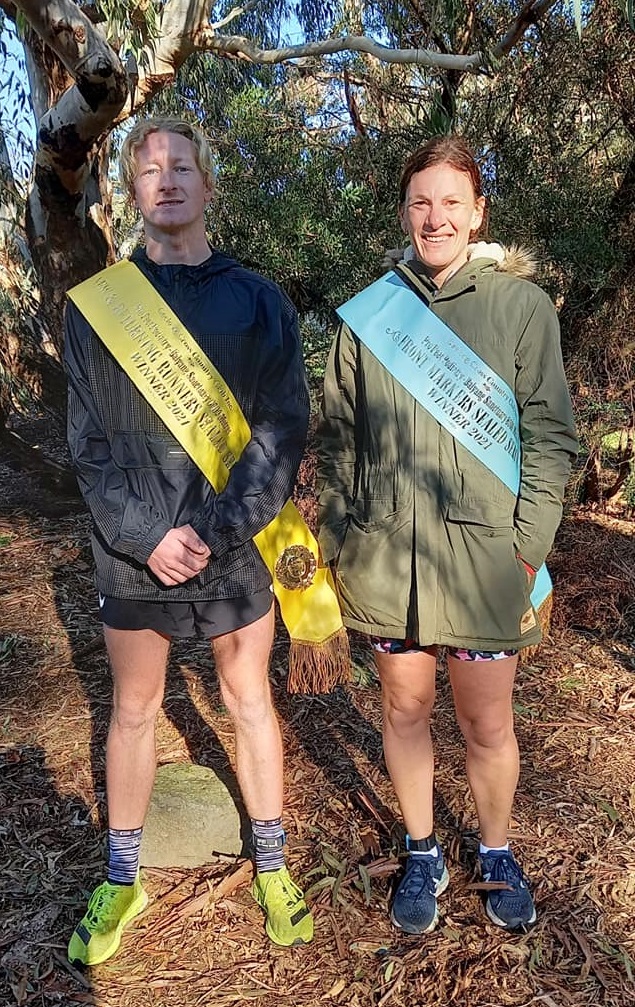 Another glorious Sunday morning for running saw some fine times for the 83 contestants in the Pro Feet Podiatry 8 km sealed handicap from Balyang Sanctuary and return.
It was Mac Fox who held off Dan Wright to win by 25 metres with Daryl Burns a further 45 metres away third. Kate Bramley finished sixth overall and was well over a kilometre ahead of her nearest female rivals, Rachael Thompson and Ruth Kimpton.
When handicappers Dan and Jo applied the hidden handicaps, Fox in his third club event won the Newcomers division, Tim Davis the Backmarkers and Fiona Gilks the Frontmarkers. Returning from injury, Wayne McCorkell was the winner of the Middlemarkers division.
Results
Frontmarkers: Fiona Gilks 40.33, Middlemarkers: Wayne McCorkell 38.15, Backmarkers: Tim Davis 33.09, New and Returning Runners: Mac Fox 28.12.
Fastest Times
Under 40 Male: M. Fox 28.12, L. Drady, 28.52.
Under 40 Female: K. Bramley 29.33, R.Thompson 34.17.
Veteran Male: D. Wright 28.18, D. Burns 28.27.
Veteran Female: S. Andrews 35.59, D. Giannios 38.43.
Masters Male: M. Clayton 32.25, A. Ward 32.32.
Masters Female: R. Kimpton 35.30, K. McFadden 41.05.
Legends Male : K. Walker 32.37, K. McNulty 33.28.
Legends Female: P. Galvin 40.04, K. Hammond 43.02
Supervets Male: D. Elward 33.36, V. Gasper 35.47.
Supervets Female: F. Barnett 51.56, C. Bridgland 52.43.
Next Sunday's race is a 10 000 metre handicap at the You Yangs Melway Ref 450 J11 at 9:00 a.m. Registrations need to be submitted by 8:30 a.m.  New members and invitation runners most welcome.