Perfect conditions prevailed on Sunday as the 83 contestants set off in the Running Company Geelong 15 km sealed handicap around the river loop. By the time the runners began their third and final lap, the wind had picked up. A group of four were still in contention with a kilometre to go when Pat Hagan applied enough pressure to split the bunch to go on to win by 50 metres from Hamish Wishart with invitation runner Bevan Nicholson a further 35 metres astern. There was no doubt in the female section with Jane White over a kilometre ahead of her nearest rivals.
When handicappers Dan, Jo and Michael applied the hidden handicaps, Barney Ellis won his third race for the season in the Middlemarkers. The other three divisions went to members who recorded their first club win, namely Louise Brennan, Kim McFadden and Luke Considine.
Another 25 runners contested a consolation 5 km one lap event with Hannah Peart the winner. Life member Tony McRae was recognised for reaching his 300 run milestone.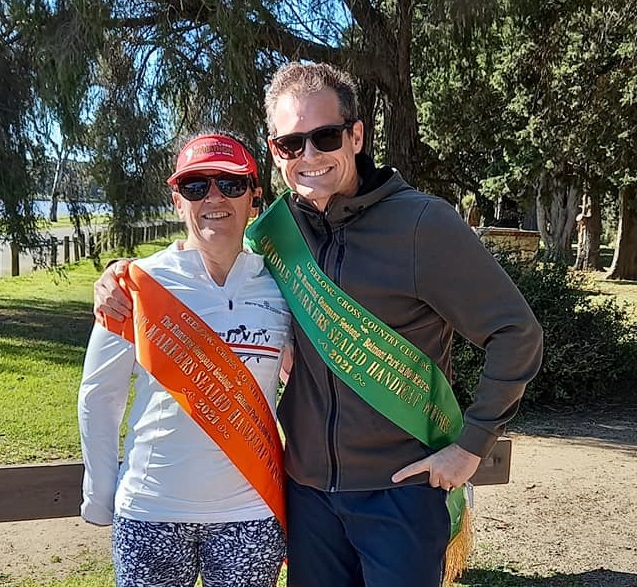 Results
Frontmarkers: K. McFadden 80.53
Middlemarkers: B. Ellis 66.42
Backmarkers:  L. Considine 59.22
New and Returning Runners: L. Brennan 72.08.
Fastest Times
Under 40 Male: P. Hagan 54.41, H. Wishart 54.55.
Under 40 Female: R.Thompson 66.37, A. Key 69.51.
Veteran Male: B. Nicholson 55.02, D.Wright 55.57.
Veteran Female: J. White61.45, S. Andrews 71.00.
Masters Male: M. Maiden 63.48, A. Ward 64.14.
Masters Female: R. Kimpton 68.18, T. De Koning-Ward 79.25.
Legends Male : A. Finlay 61.55, K. McNulty 64.58.
Legends Female: P. Galvin 77.39, K. Hammond 85.03.
Supervets Male: D. Elward 64.30, V. Gasper 67.32.
Consolation 5 km: H. Peart 27.09.
Next Sunday's race is a 8 000 handicap at East Saints Baseball Fields, Pioneer Rd, Waurn Ponds Melway Ref 465 D6 at 9:00 a.m. Registrations need to be submitted to by 8:30 a.m. New members and invitation runners most welcome.