A pleasant Sunday morning for running ensured competitive racing for the 70 starters in the Kieser 5 km sealed handicap. This race is the first of four in the sealed series where you have to complete at least three to qualify for the total prize pool.
It was first time runner, Ivi Cicak who streeted the field winning by 100 metres from invitation runner, Matthew Ogle. Susan Howell who recently won multiple gold in the Australian Masters Athletics Championships was a convincing winner in the female division.
When handicappers Dan, Jo and Michael applied the hidden handicaps, Steve Curtain won the Backmarkers, recording his second win for the season and improving his overall 5 km time by 28 seconds. Madeline Crawford won the Middlemarkers and Eloise Gordon took out the Frontmarkers. Jodie Bish was successful in the New and Returning Runners section.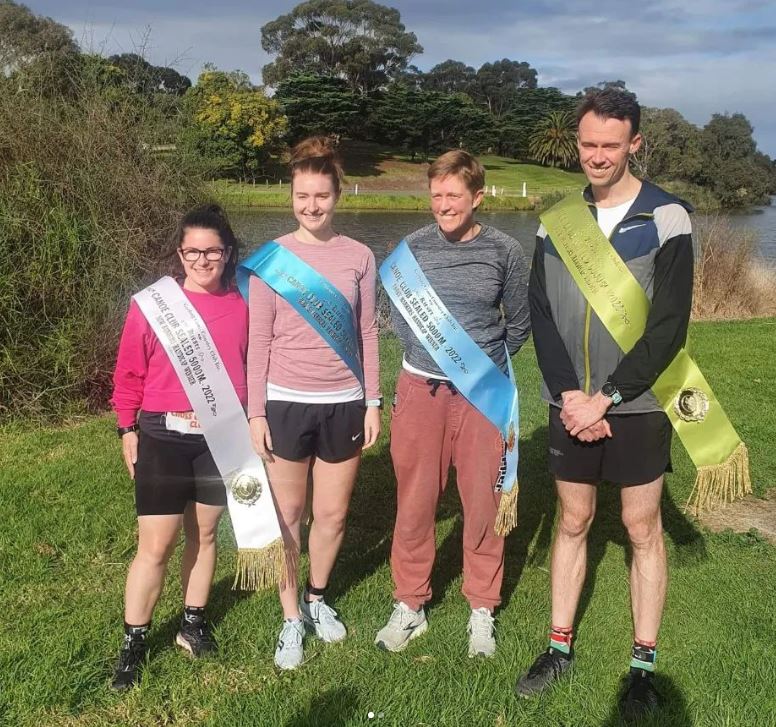 Results
Frontmarkers: E. Gordon, Middlemarkers: M. Crawford, Backmarkers: S. Curtain, New and Returning Runners: J. Bish
Fastest Times
Under 40 Male: M. Ogle 17.38, H. Fleet 18.03.
Under 40 Female: M. Crawford 21.57, K. Bahari 23.56.
Veteran Male: I. Cicak 17.38, E. Kelly 17.58.
Veteran Female: L. Solly 24.04, K. Gilbert 24.45.
Masters Male: J. Foran 21.16, R. Solly 21.39.
Masters Female: S. Andrews 22.11, C. Crawford 24.52.
Legends Male : K. Walker 20.48, K. McNulty 21.04.
Legends Female: S. Howell 21.17, P. Galvin 24.10.
Supervets Male: D. Elward 20.38, V. Gasper 23.45.
Supervets Female: C. Stephens 26.24, F. Barnett 33.12.
Next Sunday's race is a teams race at Barwon Valley Park, Melway Ref 451 H 8 at 9:00 a.m. Entries need to be submitted to the secretary by Wednesday evening. New members and invitation runners most welcome.