The handicappers with the help of the computer assembled the entrants into seventeen teams of similar standing for the Geelong Performance Coaching Squad Teams Race at Barwon Valley Park on Sunday. The wind gradually strengthened as the race progressed. Tactics came to the fore with some teams electing to use their fastest runner first while other teams decided to use them last.
It was Team 12 consisting of Alison Muscroft, Glenn Wrest and Molly Voss who triumphed by 70 metres from Team 5 with Team 10 a further 90 metres back in third. Voss who anchored the winning team hails from Ballarat and is part of the sponsor's squad. Fastest times for the day went to Alison Muscroft and Pat Hagan.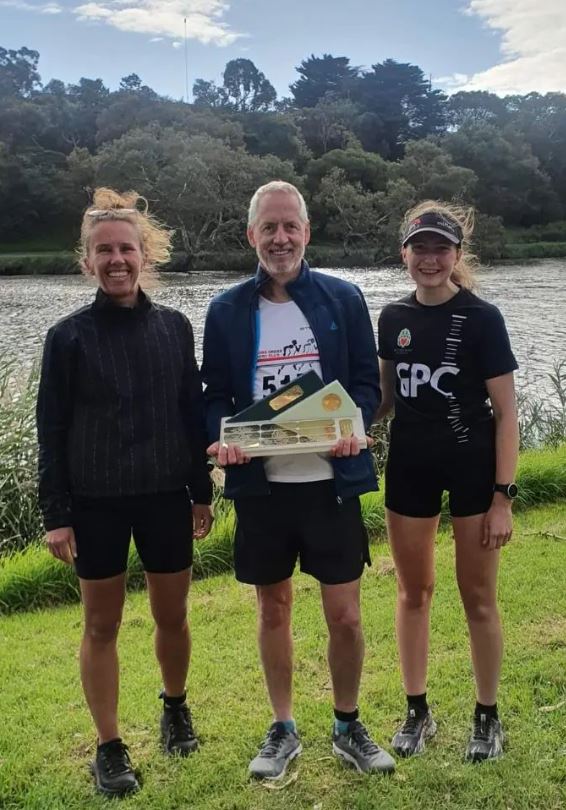 Top 3 Results
1st A. Muscroft, G. Wrest, M. Voss; 2nd F. Engelsman, K. Gilbert, S. Thompson; 3rd H. Peart, R. Wright, S. Willersdorf.
Fastest Times
Under 40 Male: P. Hagan 13.03, H. Fleet 14.15.
Under 40 Female: M. Voss 19.02,K. Bahari 19.14.
Veteran Male: E. Kelly 14.04, L. Considine 14.23.
Veteran Female: A. Muscroft 17.09, K. Gilbert 19.31.
Masters Male: J. Foran 16.29, G. Wrest 17.54.
Masters Female: S. Andrews 17.41.
Legends Male : K. Walker 16.05, K. McNulty 16.11.
Supervets Male: F. Engelsman 20.08, J. Walker 20.55.
Supervets Female: C. Bridgland 25.35, F. Barnett 26.25.
Next Sunday's event is a 10 000 metre handicap at Ocean Grove Surf Lifesaving Club Melway 497 E1 at 9:00 a.m. Registrations need to be submitted by 8:40 a.m.. New members and invitation runners most welcome.