A field of 61 turned out for the running of the Australian Mind Body Balance 10 km handicap at Ocean Grove yesterday. The sand section was mainly firm but there was a cold headwind to contend with on the long stretch back to the start.
A battle ensued between two of the warriors of the club, Ken Walker and Dave Elward with Elward winning by 12 metres in the sprint to the finish. Elward is a regular at Landy Field Masters Athletics on Wednesday evenings where he holds numerous records. It was Elward's first club win for twelve years after countless placings. Kate Bramley in her return to the club was the fastest female by four minutes whilst Ed Kelly was comfortably the fastest male.
Life member Vin Gasper, who joined the club in 1973, was recognised for reaching the amazing milestone of 900 club runs. In winning 24 club events, Gasper is the most successful member.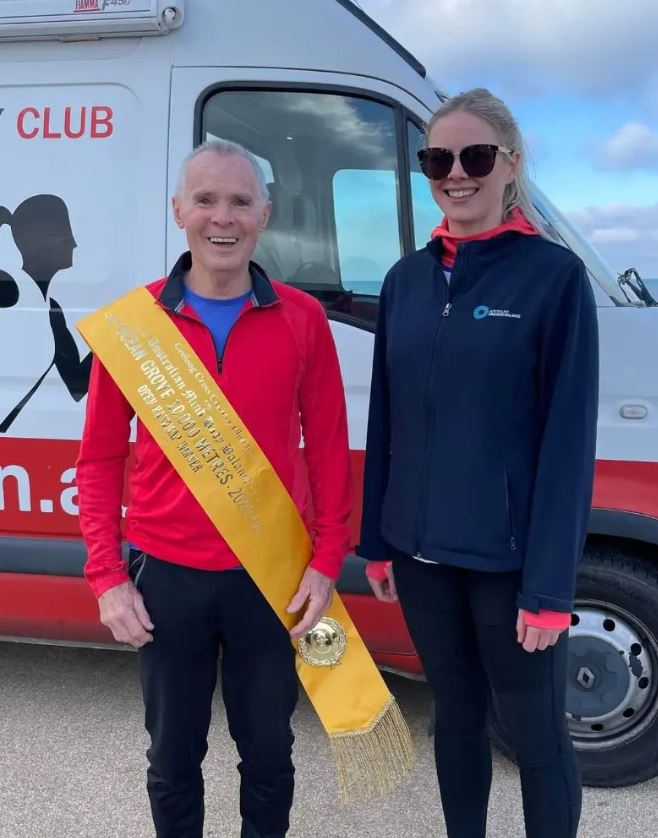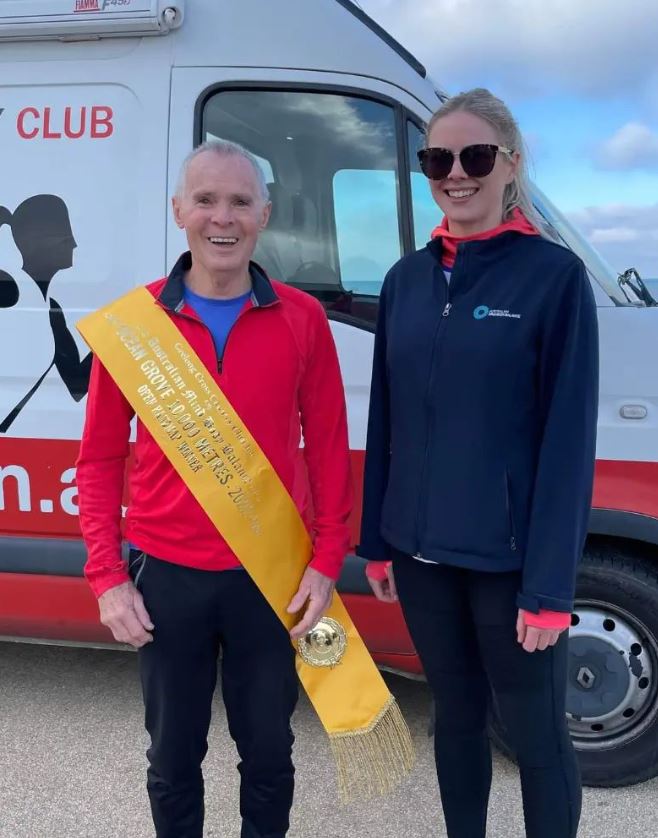 Top 10 Placings
D. Elward 43.32, K. Walker 42.45, L. Considine 40.00, L. Pye 51.37, K. McNulty 44.30, S. Andrews 47.32, E. Kelly 38.24, R. Ryan 56.06, L. Haines 39.45, P. Galvin 51.41.
Fastest Times
Under 40 Male: E. James 38.55, L. Drady 40.22.
Under 40 Female: K. Bramley 43.21, K. Bahari 51.41.
Veteran Male: E. Kelly 38.24, L. Haines 39.45.
Veteran Female: F. Wright 47.19, K. Gilbert 54.24.
Masters Male: A. Ward 44.33, G. Wrest 49.11.
Masters Female: S. Andrews 47.32, G. Pape 48.38.
Legends Male: K. Walker 42.45, K. McNulty 44.30.
Legends Female: P. Galvin 51.41, M. Henshaw 62.51.
Supervets Female: C. Stephens 54.23, F. Barnett 70.21.
Magic Money: M. Orelli 72.18.
Next Sunday's race is a 8 km handicap race starting at the Inverleigh Information Centre at 9:00 a.m. New members and invitation runners most welcome. Registrations close at 8:30 a.m.