After hilly courses in the past fortnight, most of the 66 competitors in the Pro Feet Podiatry 8 km sealed handicap were pleased to tackle a much flatter event along the river path to Fyansford and return.
Much of the course was sheltered from the moderate north wind, making conditions ideal. A bunch of four shared the lead for 5 km until Dan Wright and Pat Hagan established a gap. Hagan proved the stronger in the sprint to the line winning by 35 metres from Wright with Matt Lyon 65 metres astern.
When handicappers Dan, Jo and Michael applied the hidden handicaps, Luke Ryan won the Backmarlers division and Kartina Bahari the Newcomers and Returning runners section. The Middlemarkers and Frontmarkers divisions were won by Leo Pye and Frank Engelsman respectively, both of whom are regulars at Masters Athletics on Wednesday nights.
Assistant secretary, Frank Engelsman was recognised for reaching his 100 run milestones.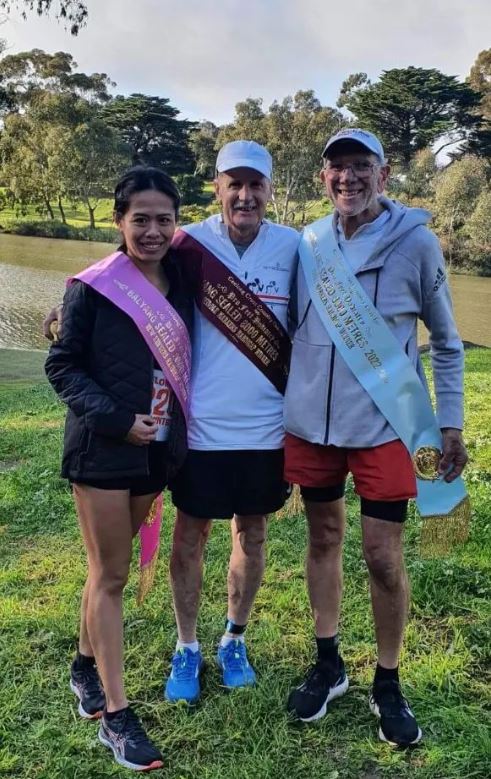 🏆Results
Frontmarkers: F. Engelsman, Middlemarkers: L.Pye, Backmarkers: L. Ryan, New and Returning Runners: K. Bahari.
🏆Fastest Times
Under 40 Male: P.Hagan 29.13, M. Lyon 29.35.
Under 40 Female: K. Bramley 31.16, K. Bahari 39.18.
Veteran Male: D. Wright 29.21, L. Considine 29.47.
Veteran Female: A. Pang 33.19, A. Muscroft 35.58.
Masters Male: A. Ward 33.15, J. Foran 34.35.
Masters Female: S. Andrews 36.01, T. De Koning-Ward 43.18.
Legends Male : K. Walker 33.08, K. McNulty 34.00.
Legends Female: P. Galvin 39.42, J. Elkin 56.25.
Supervets Male: D. Elward 33.15, P. Fuller 37.21.
Supervets Female: C. Stephens 42.21, F. Barnett 52.27.
Next Sunday's race is the 10 km King of the Mountains at the You Yangs at 9:00 a.m. There is also a 5 km event. New members and invitation runners most welcome. Registrations close at 8:30 a.m.