The 57 competitors in the Running Company 15km sealed handicap had to contend with a chilly fluctuating wind but at least the predicted showers stayed away. A bunch of five stayed together for the first two 5km laps until Edward James broke away to win by 70 metres from Stephane Vander Bruggen with Dan Wright 50 metres away third. Kate Bramley was comfortably the first female home.
When handicappers Dan and Jo applied the hidden handicaps, James won the Newcomers and Vander Bruggen the Backmarkers. Madeline Crawford won her second 2022 Middlemarkers sealed handicap while long time club secretary, Jeff Walker won the Frontmakers, his first win since 2014.
Eighteen athletes contested the 5 km consolation event with Fred Barnett winning the sealed handicap.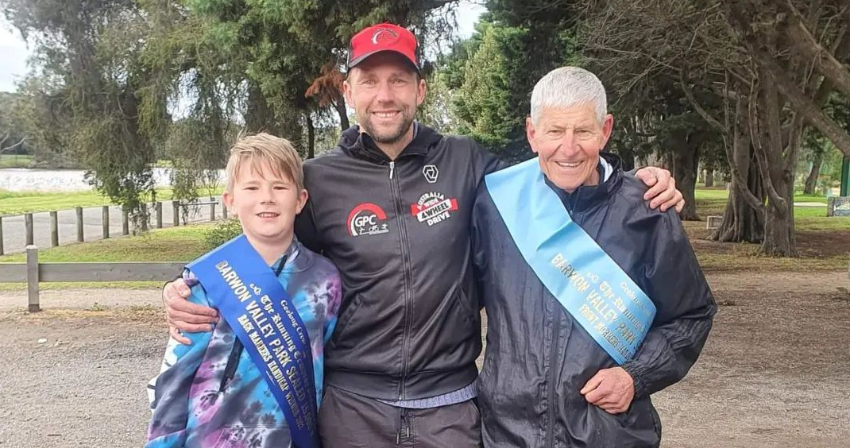 Results
Frontmarkers: J.Walker 81.49, Middlemarkers: M. Crawford 69.26, Backmarkers: S. Vander Bruggen 56.32, New and Returning Runners: E. James 56.15.
Fastest Times
Under 40 Male: E. James 56.15, P.Posterino 57.07.
Under 40 Female: K. Bramley 57.42, S. Bertino 59.25.
Veteran Male: S. Vander Bruggen 56.32, D. Wright 56.44.
Veteran Female: L. Brennan 70.12, J. Jackman 77.40.
Masters Male: A. Ward 64.11, S. Pretty 71.27.
Masters Female: N. Angus 81.19, T. De Koning-Ward 82.06.
Legends Male : K. Henderson 63.54, K.McNulty 65.39.
Legends Female: P. Galvin 78.03, J. Austin 84.00.
Supervets Male: D. Elward 62.05, P. Fuller 72.20.
Consolation 5 km: F. Barnett 33.21.
Next Sunday's race is the 8 km handicap at the Saints Baseball Field, Waurn Ponds at 9:00 a.m. New members and invitation runners most welcome. Registrations close at 8:30 a.m.