The warmest morning for many months made for pleasant racing for the field of 52 who travelled to Anglesea for the running of the Injury Clinic 8 km handicap on Sunday.
It was Michael Orelli, a superveteran of 460 club races who defied the efforts of the following pack to win by 180 metres from perennial placegetter Damian Woodberry with Jeff Walker a further 120 metres astern. It was Orelli's sixth handicap win and he attributed his improved performance to the warmer conditions, having a distinct dislike for the cold of winter.
Susan Andrews and Paul Posterino were the fastest of their gender. Thanks to the course directors and marshals whose expertise made the race such a success.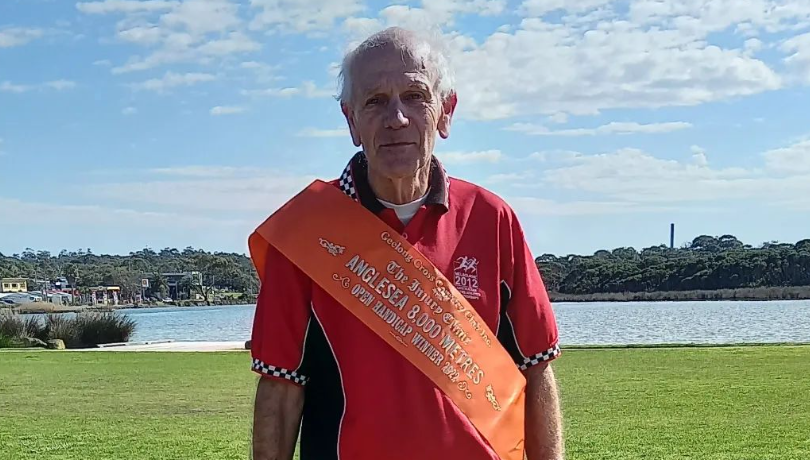 Top 10 Placings
M. Orelli 49.59, D. Woodberry 39.20, J. Walker 43.35, N. Angus 42.50, G. Clark 40.28, J. Foran 35.47, L. Haines 30.46, M. Gniel 39.41, S. Curtain 32.38, L. Ryan 35.12.
Fastest Times
Under 40 Male: P. Posterino 29.54, H. Fleet 31.18.
Under 40  Female: J. Bish 41.00,  K. Bahari 41.01.
Veteran Male: E. Kelly 30.23, L. Haines 30.46.
Veteran Female: K. Wright 41.44, L. Solly 42.16.
Masters Male: J. Foraan 35.47, Z. Krstevski 35.58.
Masters Female: S. Andrews 37.56, N. Angus 42.50.
Legends Male: D. Churkovich 38.04, J. Morton 40.14.
Legends Female: J. Austin 45.06.
Supervets Male: D. Elward 34.45, G. Clark 40.28.
Supervets Female: C. Stephens 43.39, F. Barnett 56.50.
Magic Money: K. Bahari 41.01
Next Sunday's race is a 5 km handicap race starting at the Fyansford Hotel at 9:00 a.m. New members and invitation runners most welcome. Registrations close at 8:30 a.m.