Another cool morning saw a field of 62 tackle the running of the Eastside Wholefoods Four Bridges 5 km handicap at Fyansford on Sunday. Conditions were ideal but there weren't any bridges to cross after a part of the usual course was underwater due to the river flooding.
It was Rachel Ryan who relished the revised course overtaking Coral Bridgland in the last twenty metres with Damian Woodberry running yet another placing 70 metres back in third. It was Ryan's first club win, having run just over fifty club races since joining in 2014. Invitation runner Alana Park narrowly won the fastest female honours with Luke Haines a winner by 4 seconds in the fastest male division. John Morton was congratulated on reaching his 200 run milestone.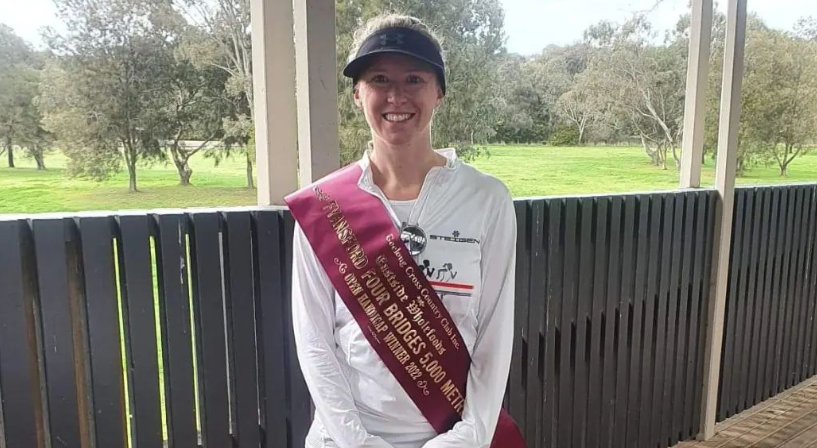 Top 10 Placings
R. Ryan 25.13, C. Bridgland 31.59, D. Woodberry 22.52, G. Clark 23.48, M. Gniel 22.52, C. Crawford 24.40, A.Jenkins 24.47, M. Morton 18.53, J. Foran 20.44, N. Angus 25.18.
Fastest Times
Under 20 Male: J. Peart 20.24.
Under 20 Female: G. Ellis 29.04.
Under 40 Male: P. Posterino 17.54, H. Mack 18.41.
Under 40 Female: A. Park 21.26, M. Crawford 21.31.
Veteran Male: L. Haines 17.50, E. Kelly 18.11.
Veteran Female: K. Wright 24.06, L. Solly 24.37.
Masters Male: M.Maiden20.04, J. Foran 20.44.
Masters Female: S. Andrews 22.06, C. Crawford 24.40.
Legends Male: K. Walker 22.03, D. Churkovich 22.38.
Supervets Male: D. Elward 20.33, P. Fuller 23.21.
Supervets Female: C. Stephens 25.46, C. Bridgland 31.59.
Magic Money: S. Borwick 23.08.
Next Sunday's race is a 21.1 km handicap race starting at the Barwon Valley Park at 8:00 a.m. There is also a 5 km event. New members and invitation runners most welcome. Registrations close at 7:30 a.m.