Another ideal morning for running greeted the field of ninety-seven athletes who turned out for the running of the Active Feet 6.5 km handicap starting at Barwon Valley Park on Sunday. The course went to Queen's Park and back on the Highton side of the river.
It was Matt Petersen who held on to win by 40 metres from Susan Howell with Peter Fuller 15 metres behind in third place. It was Petersen's first open handicap win, having previously won a sealed series event in 2015. A ten year member, Petersen's win came in his 33rd race.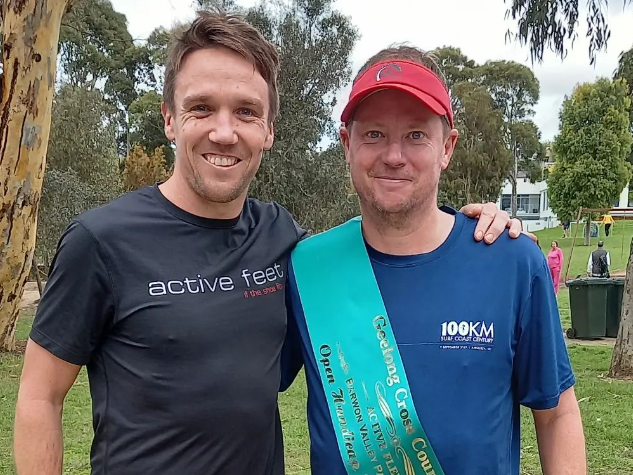 Rachael Thompson and Liam Drady once again were the fastest of their gender.
The club greatly appreciated the DeFib familiarisation session conducted expertly by Jane White.
Thanks to Active Feet for sponsoring the race and for being present on the day!
As always a huge thanks to all volunteers who make the events each week possible
Top 10 Placings
M. Petersen 26.38, S. Howell 27.37, P. Fuller 28.45, A. Ward 25.47, R. Ryan 33.12, R. Meesen 31.06, H. Mack 24.46, E. Baeck 31.41, F. Engelsman 35.33, C. Stephens 34.04.
Fastest Times
Under 20 Male: J. Peart 25.35.
Under 20 Female: T. Costin 30.45, C. Paul 31.18.
Under 40 Male: L. Drady 24.05, P. Dwyer 24.18.
Under 40 Female: R. Thompson 25.54, C. Anderson 28.23.
Veteran Male:P. Posterino 24.17, L. Haines 25.11.
Veteran Female: K. Wright 32.25, R. Ryan 33.12.
Masters Male: A. Ward 25.47, Z. Krstevski 27.31.
Masters Female: S. Pedersen 28.08, S. Andrews 30.14.
Legends Male: K. Walker 26.45, K. McNulty 27.42.
Legends Female: S. Howell 27.37, P. Galvin 34.18.
Supervets Male: D. Elward 27.18, P. Fuller 28.45.
Supervets Female: C. Stephens 34.04, J. Austin 35.16.
Next Sunday's race is the Portarlington 8 km starting at 9:00 a.m. New members and invitation runners most welcome. Registrations close at 8:40 a.m.