A field of 91 athletes turned out for the running of the ProFeet 8 km handicap at Portarlington on Sunday, once again in ideal racing conditions. It was an out and back course toward Indented Head with only a light cooling breeze. Ray Meesen who was running his 100th club race triumphed by 90 metres from Hamilton Mack with Liam Drady a further 30 metres astern.
Meesen's previous win was only 9 races ago in August 2022 as he showed the benefits of an injury free period. Newcomer Alana Plyman blitzed her female compatriots in her first club event with Liam Drady who also won the Magic Money, comfortably the fastest male.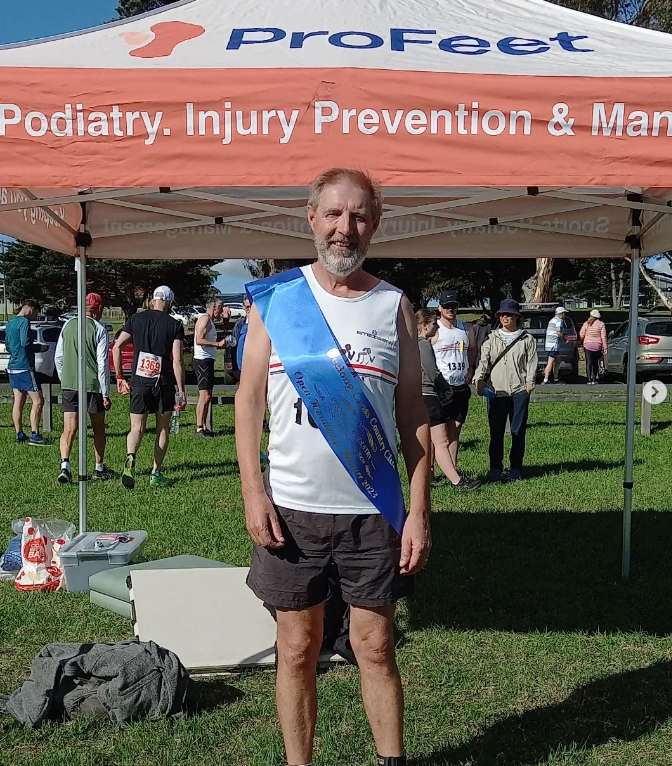 Long time club secretary, Jeff Walker, who joined the club in 1973, was congratulated on reaching his 1000th run milestone as was Ray Meesen for his 100th.
Top 10 Placings
R. Meesen 38.57, H. Mack 31.19, L. Drady 29.52, S. Curtain 31.50, L. Solly 40.27, P. Fuller 36.45, J. Foran 35.15, A. Jenkins 38.39, S. Thompson 35.37, M.Long 39.41.
Fastest Times
Under 20 Male: J. Peart 32.32.
Under 20 Female: T. Costin 39.57, C. Paul 43.45.
Under 40 Male: L. Drady 29.52, H. Mack 31.19.
Under 40  Female: A. Plymin 30.23, R. Thompson 32.53.
Veteran Male: P. Posterino 30.47, D. Wright 31.12.
Veteran Female: H. Teesdale 38.53, K. Wright 40.29.
Masters Male: Z. Krstevski 34.41, J. Foran 35.15.
Masters Female: S. Pedersen 35.28, R. Kimpton 35.57.
Legends Male: K. Walker 33.46, K. McNulty 34.32.
Legends Female: P. Galvin 43.43, J. Morton 47.57.
Supervets Male: D. Elward 34.24, P. Fuller 36.43.
Supervets Female: J. Austin 43.56, F. Barnett 58.06.
Magic Money: Liam Drady 29.52.
Next Sunday's race is the Fyansford 8 km starting at 9:00 a.m. New members and invitation runners most welcome. Registrations close at 8:30 a.m.