A cold north-westerly made for trying conditions for the field of 67 who turned out for the running of the Point Lonsdale Health and Wellness 10 km handicap at Point Lonsdale on Sunday. As the race commenced, drizzly rain started and persisted throughout the event. After a see-saw battle, Graham Tedoldi got the upper hand from Colin Hatton in the last 200 metres to win by 10 metres with Nicky Angus 25 metres back in third place. Returning to the club this season after a five year absence, it was a hometown win for Tedoldi who trains on the course regularly.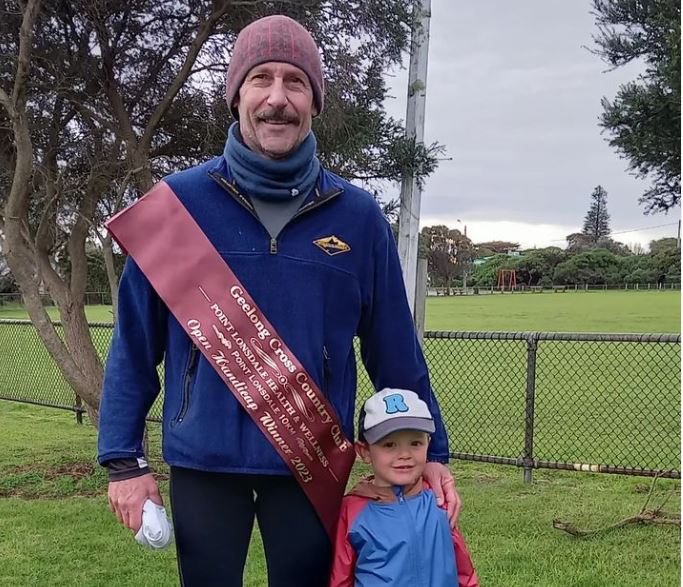 Alana Plymin and Liam Drady won the fastest time honours for their gender.
Top 10 Placings
G. Tedoldi 49.19, C. Hatton 49.02, N. Angus 53.48, M. Morton 40.31, K. McNulty 44.03, N. Rashid 46.06, J. Walker 55.52, L. Haines 36.49, P. Fuller 47.15, B. Ellis 47.32.
Fastest Times
Under 20 Female: C. Paul 54.17.
Under 40 Male: L. Drady 37.39, A. Kavanagh 42.50.
Under 40 Female: A. Plymin 39.39, K. Bramley 40.55.
Veteran Male: L. Haines 38.49, P. Posterino 39.03.
Veteran Female: R. Ryan 51.14, E. Gordon 53.58.
Masters Male: A. Ward 43.32, N. Rashid 46.06.
Masters Female: S. Pedersen 47.22, N. Angus 53.48.
Legends Male: K. Walker 43.57, K. McNulty 44.03.
Legends Female: S. Howell 48.46, P. Galvin 57.07.
Supervets Male: P. Fuller 47.15, V. Gasper 54.07.
Supervets Female: J. Austin 56.13, C. Stephens 56.57.
Magic Money: C. Hatton 49.02
Next Sunday's race is the Geelong Grammar 10 km handicap starting at 9:00 a.m. New members and invitation runners most welcome. Registrations close at 8:30 a.m.