A cool morning with a light to moderate breeze saw a field of 63 turn out for the running of the Tuckers Funerals Memorial 8 km handicap at Waurn Ponds on Sunday. The flat course is one of the club's fastest.
Supervet Peter Fuller took over the lead from Gerry Fitzpatrick with 200 metres to go and had to hold off a strong challenge from Andrew Thompson who was 25 metres behind in second with Fitzpatrick a similar distance back in third place. Fuller in his second full season with the club has shown steady improvement throughout his 32 runs, surprisingly so for a 76 year old.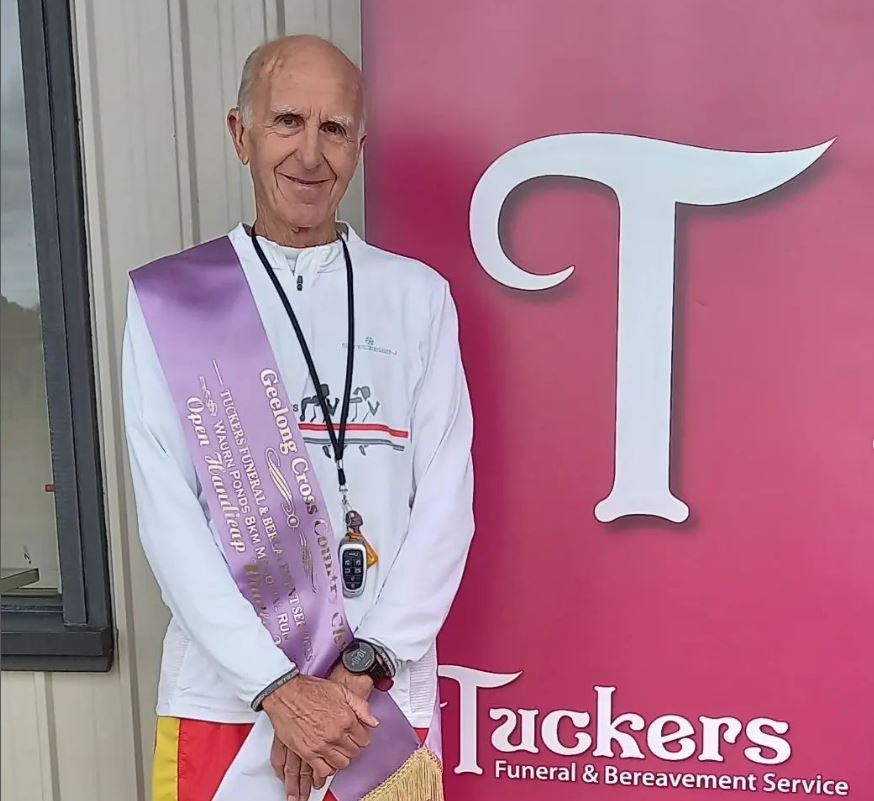 Rachael Thompson confirmed her favouritism for the club championship by being the fastest female whilst Liam Drady was the fastest male, having already sewn up the male equivalent. Club president, Kevin McNulty eloquently delivered a moving tribute to the past members who are now deceased.
Top 10 Placings
P. Fuller 35.20, A. Thompson 30.46, G. Fitzpatrick 43.52, S. Thompson 35.30, K. Walker 33.33, M. Morton 30.36, J. Walker 44.19, L. Drady 28.18, C. Crawford 41.11, D. Elward 34.53.
Fastest Times
Under 20 Female: C. Paul 42.48.
Under 40 Male: L. Drady 28.18, P. Dwyer 29.32.
Under 40 Female: R. Thompson 33.01, D.Marshall 37.21.
Veteran Male: P. Posterino 30.14, M. Morton 30.36.
Veteran Female: J. White 34.04, K. Wright 38.59.
Masters Male: J. Foran 35.14.
Masters Female: S. Pedersen 35.19, N. Angus 41.41.
Legends Male: K. Walker 33.33, K. McNulty 34.35.
Legends Female: C. Crawford 41.11, M. Henshaw 49.08.
Supervets Male: D. Elward 34.53, P. Fuller 35.20
Supervets Female: C. Stephens 42.27.
Magic Money: D. Marshall 37.21.
Next Sunday's race is the Anglesea 8.2 km handicap starting at 9:00 a.m. New members and invitation runners most welcome. Registrations close at 8:30 a.m.