The field of 54 who turned out for the running of the Intersport De Grandi 21.1 km handicap at Barwon Valley Park on Sunday were wary of the warm forecast. But the moderate westerly and periodic cloud cover kept conditions reasonable for the longest race on the club calendar, a true test of stamina.
It was the limit marker, Sara Taylor-Wilson who defied the efforts of the rest of the field to run her down, winning by 100 metres from Alan Jenkins with Matt Maiden in his return to the club a further 200 metres back in third. It was Taylor-Wilson's first win in her twenty-eighth start in her club career spanning back to 2010.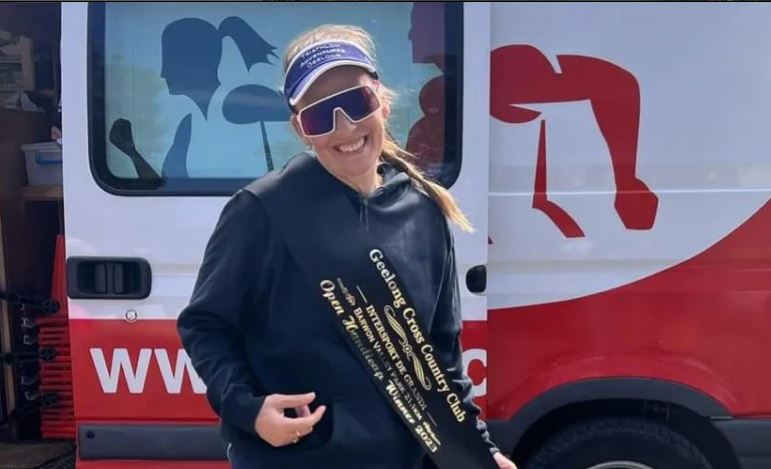 Ruth Kimpton was easily the fastest female with Liam Drady the fastest male by a minute. Twenty-three athletes competed in the alternative 5 km event with Jane White winning its sealed handicap. Thanks to Max Wright and Diane Marshall who operated the drink station and Jodie Bish who marshalled for the duration of the long event.
Top 10 Placings
S. Taylor-Wilson 136.08, A. Jenkins 106.22, M. Maiden 94.45, P. Posterino 85.59, J. Luca 87.38, R. Kimpton 101.41, J. Walker 126.12, K. McNulty 98.39, P. Dwyer 84.05, S. Thompson 103.03.
Fastest Times
Under 40 Male: L. Drady 83.03, P. Dwyer 84.05.
Under 40 Female: S. Kelly 109.56, S.Hamilton 113.40.
Veteran Male: P. Posterino 85.59, L. Considine 86.50.
Veteran Female: K. Wright 114.29, E.Gordon 117.28.
Masters Male: M. Maiden 94.45, A. Ward 100.25.
Masters Female: R. Kimpton 101.41, S. Andrews 105.39.
Legends Male: K. McNulty 98.39, G. Tedoldi 103.18.
Legends Female: J. Morton 133.18.
Supervets Male: P. Fuller 98.45, J. Walker 126.12.
Supervets Female: C. Stephens 122.22.
Magic Money: R. Kimpton 101.41.
Alternative 5 km: J.White 20.46.
Next Sunday's race is the Canoe Club Eliminator starting at 9:00 a.m. New members and invitation runners most welcome. Registrations close at 8:10 a.m.