Another pleasant morning for running saw a field of 66 turn out for the running of The Happy Runner 10 km handicap at Torquay.
A little drizzle and a light breeze which gradually strengthened on the homeward leg meant the only excuse for a poor run was a couple of short sections of soft sand.
Kim Wright who recently competed in the Gold Coast Marathon took the lead 700 metres from the finish and won by 35 metres from club secretary Jeff Walker with club treasurer Sean Thompson 40 metres away in third place.
It was the fourth club win for Wright who was the club veteran champion last season and very recently achieved her 100 club run milestone.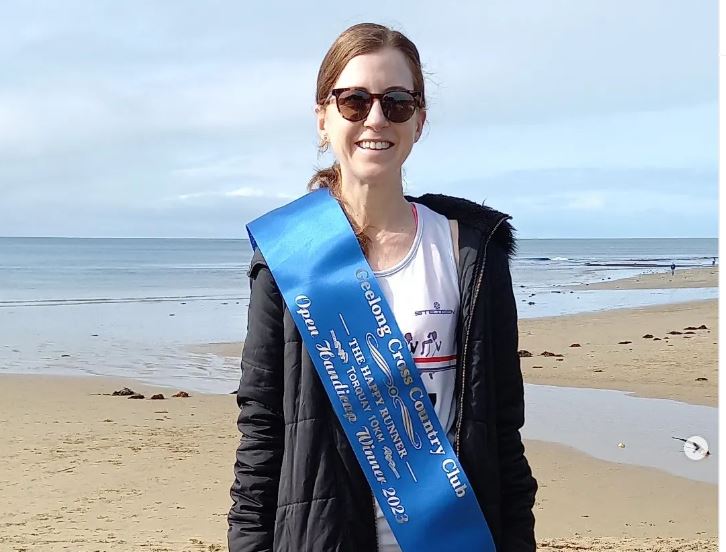 Rachael Thompson and Liam Drady earned fastest time honours for their gender.
Top 10 Placings
K. Wright 50.53, J. Walker 56.42, S. Thompson 46.02, P. Fuller 46.45, K. Walker 43.26, M. Long 51.21, A. Thompson 42.05, D. Churkovich 48.20, K. McNulty 44.35, C. Crawford 53.01.
Fastest Times
Under 20 Female: C. Paul 59.35
Under 40 Male: L. Drady 37.54, M. Minney 39.47.
Under 40 Female: R. Thompson 42.22, D. Marshall 49.35.
Veteran Male: P. Posterino 39.07, L. Haines 40.35.
Veteran Female: K. Wright 50.53, E. Davis 50.55.
Masters Male: R. Solly 50.17, S. McMurrich 63.40.
Masters Female: R. Kimpton 46.58, S. Andrews 48.50.
Legends Male: K. Walker 43.26, K. McNulty 44.35.
Legends Female: C. Crawford 53.01, J. Morton 60.13.
Supervets Male: D. Elward 45.36, P. Fuller 46.45.
Supervets Female: C. Stephens 54.08, M. Blood 92.23.
Magic Money: M. Minney 39.47.
Next Sunday's race is the The Running Company Geelong – Barwon Valley Park 15km Sealed Handicap, starting at 8:40 am for Front Markers, 9:00 am for all other divisions. There is also a 5km Race at 9:05 am. New members and invitation runners most welcome. Registrations close at 8:30 a.m.