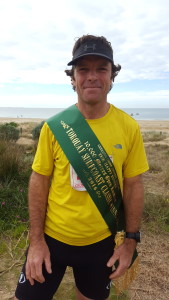 With the tide well out and very little breeze, the 84 starters in the Happy Runner Surf Coast Classic 10 km handicap set off from Fisherman's Beach, Torquay. It was Glenn Martini who prevailed by 90 metres, holding off Aaron Herbert who overtook Jeanette Morton right on the line. Martini's win was his first since 2011 and came after he spent two years in the Marshall Islands. Natalie Mensch and Ron Thomas were the fastest of their gender cementing their grip on the club championships.
Top 10 Results
G. Martini 46.39, A. Herbert 46.2 1, J. Morton 54.02, V. Gasper 43.05, D. Wright 39.31, G. Tedoldi 41.40, G. Anset 43.20, S. Thompson 47.20, R. Thomas 36.52, K. Walker 39.33.
Fastest Times
Under 20 Female: M. Crawford.49.31, M. Jones 50.52.
Under 40 Male: D. Wright 39.31, L. Haines 40.00.
Under 40  Female: Z. Adams 43.12, S. Coulter 43.32.
Veteran Male: R. Thomas 36.52, G. Simpson 37.28.
Veteran Female: N. Mensch.40.36, S. Pedersen 42.51.
Masters Male: C. El-Hage 39.23, G. Tedoldi 41.40.
Masters Female: P. Galvin 49.28, C. Crawford 53.51.
Legends Male : K. Walker 39.33, D.Elward 41.14
Legends Female: J. Austin 49.38, D. Elson 60.19/
Supervets Male: G. Marshall 58.22, J. Weiler 61.49.
Supervets Female: M. Blood 75.40
Magic Money: G. Wrest