The 96 competitors in the Triathlon Adventures Geelong 8km Sealed Handicap at Balyang Sanctuary on Sunday were presented with ideal running conditions. Invitation runner, Theo Langlois, won by 90 metres from Mac Fox with Liam Drady third. Alana Plymin was tenth over the line to decisively be the first female from Rachael Thompson and Sharon Pedersen.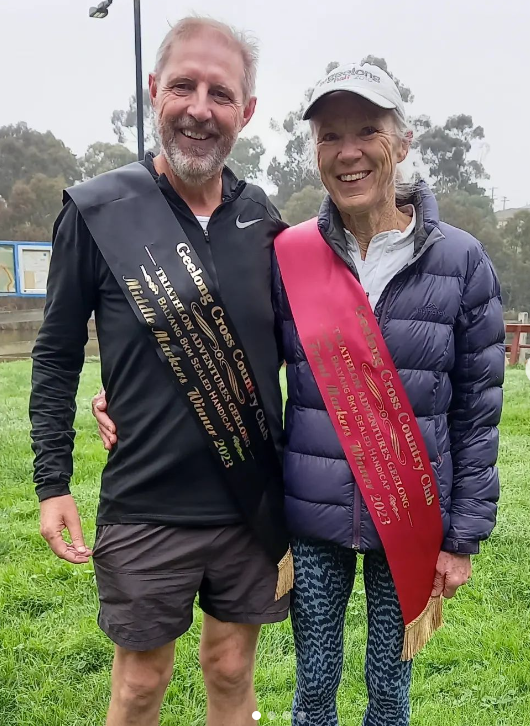 When the handicappers Dan and Jo applied the hidden handicaps, the winner of the New and Returning Runners division was Despina Giannios, back after missing the 2022 season.
The other three sections were won by members who had already won a race this season. Winners' penalties are not carried into the sealed series so they showed they are still in top form.
Jeanette Austin won the Frontmarkers, Hamilton Mack the Backmarkers and Ray Meesen the Middlemarkers.
Results
Frontmarkers: J. Austin 43.12, Middlemarkers: R. Meesen 37.23, Backmarkers: H. Mack 29.36, New and Returning Runners: D. Giannios 36.17.
Fastest Times
Under 20 Male: A.Borschmann 30.52.
Under 20 Female: T. Costin 40.55, C. Paul 42.59.
Under 40 Male: T. Langlois 27.22, M. Fox 27.46.
Under 40 Female: A. Plymin 29.42, R. Thompson 32.05. 
Veteran Male:  L. Considine 29.06  , P. Posterino 29.14.
Veteran Female: D. Giannios 36.17, L. Solly 38.27.
Masters Male: A. Ward 33.40,J. Foran 33.55.
Masters Female: S. Petersen 34.31, R. Kimpton 35.22.
Legends Male: K. Walker 32.38, K. Henderson 32.52.
Legends Female: S. Howell 34.47,P. Galvin 43.59.
Supervets Male: D. Elward 33.28, M. Wright 36.19.
Supervets Female: C. Stephens 42.06, J. Austin 43.12.
Next Sunday's race is a 7 km race at Drysdale Recreation Reserve at 9:00 a.m. New members most welcome. Registrations close at 8:30 a.m.